The 1919 Club Newsletter – December 2018

The Lost Degrees of Knighthood
In the early 1970s, a group of DeMolays from Ohio felt a need to expand the DeMolay experience for members of the Order of Knighthood.  They created a series of degrees with the purpose of reinforcing the ideals of living a moral life and considering how your actions today have consequences in the future.  Basing their efforts on the established Degree of Knighthood, they wrote the Degrees of Ebon, Anon, Triad, and Ex-Templar.
Following the adoption of The Degree of Ebon, The Degree of Anon was exemplified at a Knighthood Convocation in the early 1970s, at which time it was decided not to present it to the ISC for adoption. No records exist that Triad and Ex Templar were ever exemplified.
Accounts of the effort indicate that there were to be additional degrees as well, with the total number ranging from seven to thirty-two. The thirty-two-degree concept, modeled after the Scottish Rite, counted the Initiatory, DeMolay, and Knighthood Degrees as the first three degrees.  Continuing the use of the Ancient & Accepted Rite as a pattern, some of the additional Knighthood degrees reportedly were intended to be presented in the form of short lectures instead of full theatrical conferrals.
One account of events includes information that, at some point, the young men were told that "the Knighthood ritual is complete" and that further degrees would not be entertained.  At that point, some of the shorter degrees may have been further reduced or refined into ceremonies to be included in an eventual Knighthood Monitor much like today's Monitor of Public Ceremonies. These reportedly included the Knight of Rose Degree, which was reworked to be a Knighthood ceremony similar to the Flower Talk. A Knighthood Majority Service and other open ceremonies were reportedly discussed, and possibly written, but no evidence could be found that a Knighthood Monitor, or similar compilation, was ever created or adopted by the Supreme Council.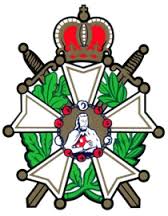 Would you like to receive more stories like this every month? Join The 1919 Club or login to your account if you're already a member.  25% of your contribution will directly support the Jurisdiction of your choice.
From Dad Land's Speech Notes
Monet, Painter of Haystacks
It is said of Claude Monet, the eminent modern French painter, that he was accustomed to set off at daybreak, with luncheon basket, paints, and canvasses. He would pick out a haystack, whose size, the lighting around which, and the shape of which pleased him. Then he would start to paint. All day long, until the evening shadows forced him to abandon it, he painted this same haystack. Once he had twelve cavasses, all of the same haystack. He was able, however, to insert a variety of colors, designs, and angles—to show the shadows and the intensity of light—so that whereas his medium and his subject remained the same, his individual results all differed.
So, it might seem that if a man picks his haystack carefully—his fundamentals—observes it closely enough to obtain for himself its numerous possibilities—and puts enough imagination, talent, and inspiration into its interpretation, he really needn't change his haystack.
Hon. J. Caleb Boggs
Senior DeMolay from New Castle, Delaware
A veteran of World War II
Bronze Star with Oak Cluster Recipient
United States Representative from Delaware (1947-53)
62nd Governor of Delaware (1953-60)
Chair, National Governors Association (1959-60)
United State Senator from Delaware (1961-73)
Lost his 1972 reelection bid to future Vice President Joe Biden
Co-sponsor of the National Air Quality Standards Act of 1970
Caleb Boggs Federal Building in Wilmington, Delaware named after him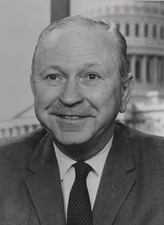 Come back next month for more speaking notes of Dad Lands, spotlights on Senior DeMolays who have done remarkable things, and fascinating pieces of DeMolay history!