The 1919 Club Newsletter- March 2020

The Guild of the Leather Apron
In today's DeMolay, mentioning the Guild of the Leather Apron causes most young men and Advisors to think of the award given in their jurisdictions to the Advisor of the Year. When Dad Land first began using the term, however, it had a much different meaning…one not directly associated with DeMolay at all.
In the mid-1950's, just after he served as Imperial Potentate, Dad Land began the process of creating what would become the Guild of the Leather Apron as a group of prominent Masons whose aim was to encourage a resurgence of Freemasonry in the United States by encouraging Masons to go back to their Lodges and become active.
His thoughts first began to take shape in correspondence with Dad Erle Dusenbery of Iowa, who was then Grand Senior Councilor of the International Supreme Council. Dad Dusenbery had previously served as General Grand High Priest of the General Grand Chapter of Royal Arch Masons, International. Dad Dusenbery's letter to Dad Land on the topic suggests that Dad Land use his considerable network to engage prominent Masons to the cause…and that he did. Members of the Formation Committee included:
Bernard B. Abedon (RI)

Galloway Calhoun (TX)
Chandler Cohagen (MT) 
Barney W. Collins (Mexico) 
Gen. Walter A. DeLamater (NY)
Ray Denslow (MO)
Earl E. Dusenbery (IA) 
Ralph E. Hamill (IN) 
Reginald V. Harris (Nova Scotia)
Sam Harris (Alberta) 
Guy H. Harvey (SD)
Clarence W. Head (PA)
Walter O. Helwig (WI)
Chester Hodges (OH)
Edgar Hoover (DC)
Bruce H. Hunt (MO)
Phillip J. Jones (CT) 
Edward A. King (MO) 
Thomas C. King (GA) 
Bruce Newton (KS) 
Chris Nungesser (LA) 
George M. Saunders (IL) 
Ernest F. Schaefer (OH)
Stuart Symington (MO)
Herbert T. White (NE) 
Claud F. Young (DC) 
Each of these members took the following obligation:
"There is but one obligation… you solemnly promise to attend a meeting of your Symbolic Lodge at least once a month, or whenever possible, and to offer your personal services in any way that they can be used." – Frank Land 
Each member of the Formation Committee encouraged the movement in his own way. Some personally led the charge while others were willing to lend their prestige to the ideal. One such respondent, who signed his letter simply, "Edgar" was Director of the FBI J. Edgar Hoover. His letter appears below.
While not directly related to DeMolay, the Formation Committee was certainly comprised of men who were influential in the Order. Eight of the members had served as, or would later be elected, Grand Master of either the Grand Council or Supreme Council. While this iteration of the Guild of the Leather Apron was short-lived, it was likely their influence on the Order that led to the creation of the current award for outstanding Advisors…who in their day had to be Master Masons…that we know today.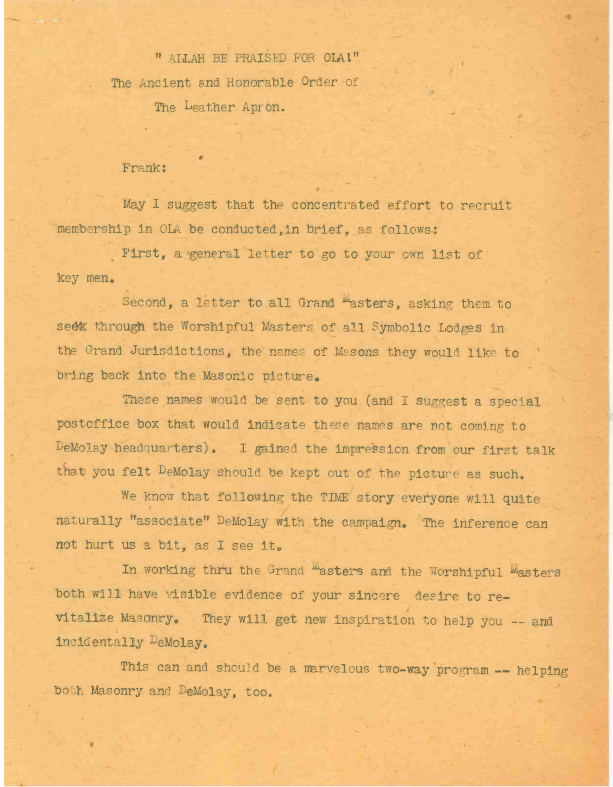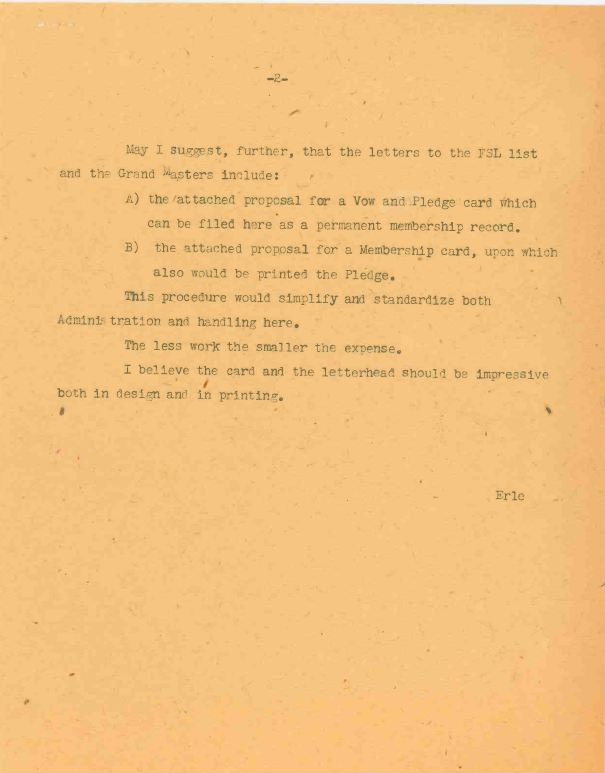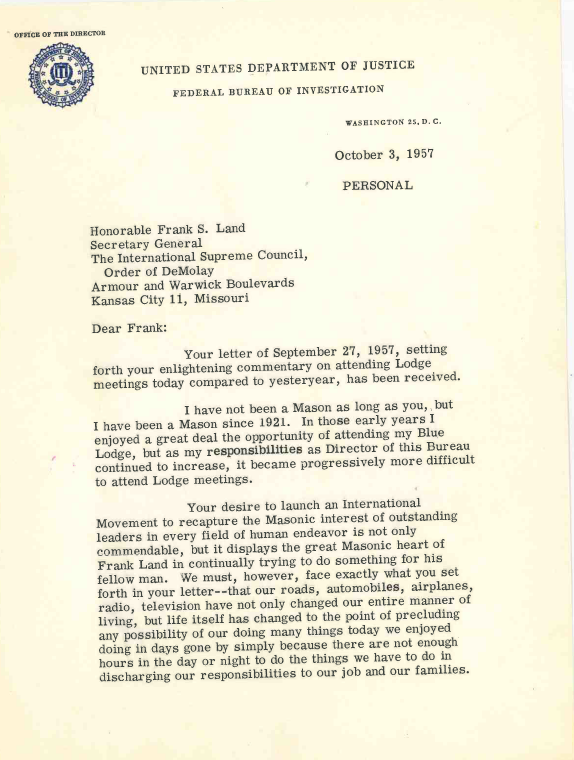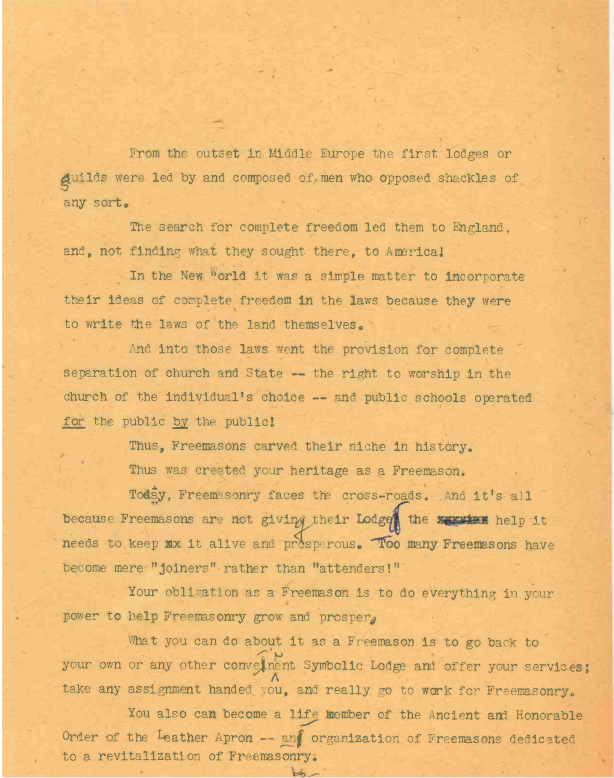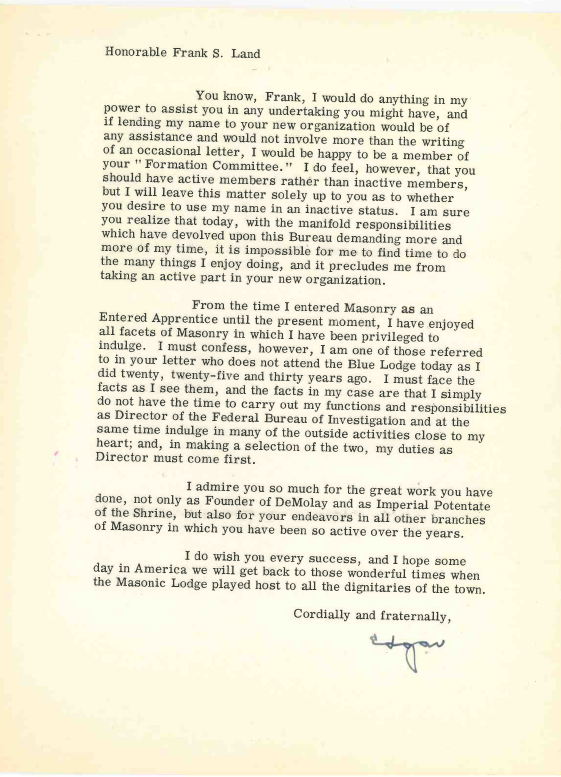 Would you like to receive more stories like this every month? Join The 1919 Club or login to your account if you're already a member.  25% of your contribution will directly support the Jurisdiction of your choice.
From Dad Land's Speech Notes
The Leader
In troubled times the world will always greet
That man who promises the best, the one
Who prophesies the brightest road, the sweet
And peaceful way past thunder to the sun
But the history of earth has always been
A tale of mass confusion, focused time
And time again by one man who begins
By bringing unity to humankind
Today we tremble on the outer rim
Of chaos, listening in every heart
To hear his step upon the wind, his dim
Approaching tread. O, if he were here to start
The spirit marching where the future sings
And truth and justice are the only kings!
--Harold Applebaum
Come back next month for more speaking notes of Dad Lands, and fascinating pieces of DeMolay history!
Survey for 1919 Newsletter New