2017 Summer Interns
IMMEDIATE RELEASE
Kansas City, Mo – DeMolay International is proud to announce the two 2017 summer interns!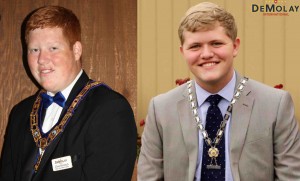 Christopher A. (Chris) Heinrich of Kentucky (left)
Darien A. Koons of Indiana (right)
Chris Heinrich is an active DeMolay in the state of Kentucky (Lincoln Chapter #18082). He is a current student at the University of Kentucky majoring in Agriculture Education, and Foreign Language (German) and International Economics. Brother Chris is also serving Deputy State Master Councilor in Kentucky. Brother Chris is an Entered Apprentice at Morrison Lodge #76 in Elizabethtown, KY. He also participates in many non-masonic organizations such as the National FFA Organization, where he served as chapter president for North Hardin High School, as well as the Lincoln Trail Regional President.
Darien Koons is an active DeMolay in the state of Indiana, (Edmund B. Ball Chapter #15069). He is a current student at Indiana Universty's Kelly School of Business majoring in Accounting & Finance. Brother Darien served as State Master Councilor of Indiana in the 2015-2016 term. Brother Koons is a Master Mason at Frank S. Land lodge # 758 in Indianapolis, IN. He is very active in his lodge serving as Senior Steward for the 2017 year.
For more information, please contact:
DeMolay International
1-800-DEMOLAY (336-6529)
DeMolay@DeMolay.org
DeMolay is the premier youth leadership organization building young men of character and dedicated to making young men better people and leaders. Providing a program based on timeless principles and practical experience, DeMolay strives to not only create the extraordinary leader, but a leader of character.
This is an official publication of DeMolay, and acknowledges authority and yields allegiance to DeMolay International, of which Frank S. Land was Founder.