Albania – A new DeMolay Jurisdiction

IMMEDIATE RELEASE
Kansas City, Mo – Grand Master Bill Sardone announces the creation of the newest Jurisdiction within DeMolay International, Albania. Albania, on Southeastern Europe's Balkan Peninsula, is a country with Adriatic and Ionian coastlines and an interior crossed by the Albanian Alps.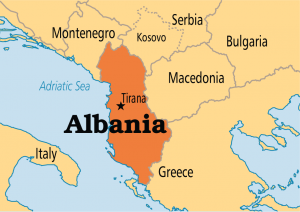 Albania borders the Adriatic Sea with the DeMolay Jurisdiction of Italy, who will serve as a big brother to the newly created Jurisdiction. Grand Master Sardone creates this new Jurisdiction pursuant to Article 2 202.1 (i) of the DeMolay International Rules and Regulations.
Grand Master Sardone said, "I am pleased to announce that the Executive Officer of Italy Luciano Critelli has agreed to become the Personal Representative for DeMolay in Albania and will work with their Grand Lodge and our DeMolay International Staff to bring advisors online and prepare a platform for young men to have the DeMolay Experience. The global footprint of DeMolay International continues to expand with the establishment of the Jurisdiction of Albania."
Grand Master Sardone went on to state, "My sincere thanks to M.W. Bro. Piro Dode, Grand Master of the Grand Lodge of Albania for looking towards the future and of course to 'Dad' Critelli who continues to assist in our expansion. DeMolay is truly part of the global conversation.  And the opportunities continue to be available for us."
View the letter from MW Brother Piro Dode, Grand Master of the Grand Lodge of Albania
For more information, please contact:
DeMolay International
1-800-DEMOLAY (336-6529)
DeMolay@DeMolay.org
DeMolay is the premier youth leadership organization building young men of character and dedicated to making young men better people and leaders. Providing a program based on timeless principles and practical experience, DeMolay strives to not only create the extraordinary leader, but a leader of character.
This is an official publication of DeMolay, and acknowledges authority and yields allegiance to DeMolay International, of which Frank S. Land was Founder.