eScribe Update – Annual Chapter Report
FOR IMMEDIATE RELEASE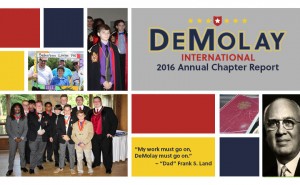 KANSAS CITY, Mo. – The Annual Chapter Report is now available to complete by all Chapter Advisory Councils! The DeMolay International Board of Directors has asked that all Chapters complete this annual report by March 31 of each year.
"Bringing back this report is vital to showcase the successes of DeMolays around the world! This annual Chapter Report replaces the previous Agenda that Chapters had completed with the Advisory Council registration paperwork," Keith K. Klein, PGM Grand Secretary.
The Annual Chapter Report is broken down in nine separate sections; Chapter Information, Advisory Council Meetings, Current Advisors, Membership, Chapter Service, Chapter Officers, Annual Financial Report, Review of Policies, and Advisory Council Acknowledgement. This should take the Chapter Chairman or Chapter Advisor no more than an hour to complete via eScribe.
The purpose of this report is to gain insight into chapter operations, create internal competition on service and philanthropy, and gives Executive Officers the ability to gauge the incredible strength of each chapter within his jurisdiction. DeMolay International will publish data on Chapter and jurisdiction service hours completed and philanthropic dollars donated.
The Advisory Council should work with the Chapter Chairman to complete this form on eScribe. The Chapter Chairman, Chapter Advisor, or any other Advisor with Chapter Admin access will hover over the Registration tab and click Annual Chapter Report. Multiple Advisors can work on different sections of this report and it may be saved at any time and submitted at a later date.
If there are any questions regarding the Annual Chapter Report, please contact us!
For more information, please contact:
DeMolay International
1-800-DEMOLAY (336-6529)
DeMolay@DeMolay.org
DeMolay is the premier youth leadership organization building young men of character and dedicated to making young men better people and leaders. Providing a program based on timeless principles and practical experience, DeMolay strives to not only create the extraordinary leader, but a leader of character.
This is an official publication of DeMolay, and acknowledges authority and yields allegiance to DeMolay International, of which Frank S. Land was Founder.