Bruce Hazard appointed Executive Officer in New York effective August 11, 2017.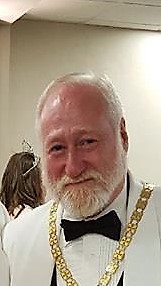 Grand Master Ronald J. Minshall has appointed Dad Bruce Hazard as Executive Officer in New York effective August 11, 2017.
Dad Hazard has been involved with DeMolay since the age of 14, when he joined Mohawk Valley Chapter in Utica, New York. He is a Past Master Councilor of William D. Goewey Chapter in Albany, NY, and received the Chevalier Degree
while still an active DeMolay. He is an Active Legion of Honor member and Vice-Dean of the Eastern New York Preceptory.
As an Advisor, Dad Hazard has served as Chapter Dad, Chapter Chairman, District Deputy, Region Governor, Executive Officer (2001-2004), and Active Member of the Supreme Council, maintaining an active role in New York DeMolay and DeMolay International even while living in Europe for ten years. Most recently, Dad Hazard has been serving New York DeMolay as Four Rivers Region Governor.
Outside of his support for DeMolay, Dad Hazard is Treasurer of the Warren County Historical Society, Trustee and Lay Leader of Fortsville United Methodist Church, Trustee of Queensbury Lodge #121 F&AM, District Director of Lay Servant Ministries and a trustee of the Queensbury Masonic Historical Society. Masonically, Dad Hazard is a Past Master, Past District Deputy Grand Master and has served on numerous Grand Lodge Committees.
Dad Hazard and his wife Elizabeth have four sons, all Senior DeMolays, and all veterans (or active duty members) of the Armed Forces.
Dad Hazard replaces Past Grand Master Bill Sardone, who has served as Executive Officer since 2008. Grand Master Minshall thanks Dad Sardone for his service and wishes to congratulate Dad Hazard on his appointment.
Please take a moment to welcome Dad Hazard by contacting him here
For more information, please contact:
DeMolay International
1-800-DEMOLAY (336-6529)
DeMolay@DeMolay.org