DeMolay Names Director of Membership Services
KANSAS CITY, MO – DeMolay International announces that Joshua A. Starnes has been named Director of Membership Services.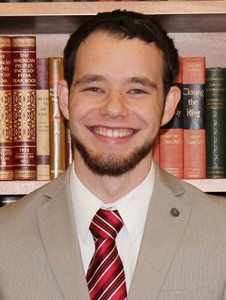 In this position, Starnes will play a key role in providing support to the organization's 16,000 members and 5,000 adult volunteers who help create the DeMolay Experience in all 50 U.S. States and 25 countries.
A native of Lexington, Kentucky, Starnes holds a Bachelor of Arts in Corporate & Organizational Communication from Western Kentucky University. He is a Senior DeMolay, having been initiated in Blue Grass Chapter, where he is a Past Master Councilor, and C.Frye Haley Priory, where he is a Past Illustrious Knight Commander. Brother Starnes is also a Past State Master Councilor of Kentucky DeMolay, and has received the Representative DeMolay Award, Founder's Membership Award, and the Distinguished Service Award. He has also been invested with the Degree of Chevalier. As an Advisor, he has served as a Priory Advisor and as State Ritual Director.
Executive Director Christian D. Moore said, "Josh Starnes is an immensely talented Senior DeMolay who brings both DeMolay experience and a professional background in communications to the table. He has a unique skill set which, coupled with his proven ability to help others be successful in our program, will be an incredible asset to DeMolay International as we move into our second century. I am excited for the opportunity to work with Josh as we enhance and expand the DeMolay Experience around the world."
Josh can be reached at JStarnes@DeMolay.org or 1-800-DeMolay.
DeMolay International is the premier youth leadership organization building young men of character and dedicated to making young men better people and leaders. Providing a program based on timeless principles and practical experience, DeMolay strives to not only create the extraordinary leader, but a leader of character. DeMolays hold themselves to a higher standard, striving constantly to improve and be better every day.  
This is an official publication of DeMolay International, of which Frank S. Land is Founder.