Douglas Maxwell, Business Man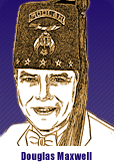 Born: October 6, 1947
Douglas E. Maxwell was born on a fall Sunday in 1947. His DeMolay career began in the year of 1962, joining Sentinel Chapter in St. Louis, Missouri.
Brother Maxwell's professional career was kick started by his decision to attend the University of Kansas to further his education. He obtained a Bachelor of Science in Architectural Engineering & Finance in 1969. Upon completing his degree, he served his country in the United States Air Force. He earned multiple commendations and departed in 1975 with the rank of Captain. Upon returning to the St. Louis area, he earned his Masters of Business Administration (MBA) from Southern Illinois University the same year. All this led up to one of his greatest professional successes, Mr. Maxwell is an entrepreneur and co-owner of the patent for all the conveyer belt systems used in many major shopping stores such as Wal-Mart. Today, Maxwell Manufacturing continues to grow and is an industry leader.
Masonically, his simple beginnings in DeMolay served as a stepping stone for his passion in regards to the Masonic Family. He joined Beacon Masonic Lodge # 3. He is a 33o member of the Scottish Rite, a Knight Templar in the York Rite, and a Legion of Honor. His passion for the Shrine is well renowned. Brother Maxwell is a Past Potentate of Moolah Shriners in St. Louis. He has served as the Chairman of the International Development Committee, the Buildings and Equipment Committee, and the Fleming – Florence Committee for the Shrine. He served as Imperial Potentate of the Shrine of North America in 2008 – 2009. He is currently the President & CEO of the Shriners Hospital for Children.
Brother Maxwell is a recipient of the DeMolay Active Legion of Honor as well as being an Honorary Member of the DeMolay International Supreme Council.