The International Congress selected the Frank S. Land Pillars of Charity Campaign in honor of Frank S. Land Day. 
Frank S. Land Pillars of Charity Campaign…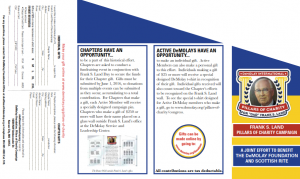 pays tribute to our founder. DeMolay and the Scottish Rite are working together to honor Frank S. Land, the founder of DeMolay International and 33ᵒ Scottish Rite Mason by placing his portrait in the Pillars of Charity Hall at the House of the Temple, in Washington D.C. where visitors can see and read about Dad Land's accomplishments.
March 24, 1919 – Kansas City, MO…
is the day in history that Frank S. Land and nine young men gathered, the

Order of DeMolay was created, and a movement began. To coincide with the date of Jacques DeMolay's death, March 18 is  recognized as the official inauguration date.
Honoring Our Founder…
is a commitment we have done well within DeMolay, and this is an opportunity to honor Frank Land outside of DeMolay. Let's share the story of the man who gave so much to an organization that has made a difference in the lives of millions of people.  Each year on or near November 8, the day on which our Founder passed, to memorialize and pay tribute to Frank S. Land, Chapters are encouraged to carry out a special fund-raising effort.
Chapters Have an Opportunity…
to be a part of the Pillars of Charity campaign. Chapters are asked to conduct a fundraising event in conjunction with Frank S. Land Day to secure the funds for their Chapter gift. Gifts from multiple events may be submitted as they occur, which will go toward a Chapter's total contribution. A Chapter that makes a gift of $1,000 or more will have its name placed on a recognition wall outside the Frank S. Land office at the DeMolay International Service & Leadership Center.
Active DeMolays Have an Opportunity…                              
to make a gift.  Each Active Member is encouraged to make a personal gift to this campaign.  An Active DeMolay who makes a gift of $25 or more will receive a special DeMolay t-shirt. Individual gifts are counted toward his Chapter's efforts to be recognized on the Frank S. Land wall.
All Active Members Will Receive…
a specially-designed lapel pin for participating. Whether an Active DeMolay makes a personal gift or his Chapter participates, everyone will receive a Pillars of Charity Campaign pin to wear proudly as a Brother who is honoring the legacy of Frank S. Land.