Giving Tuesday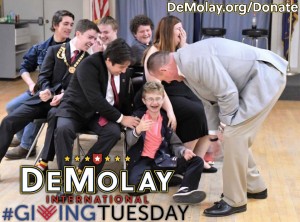 FOR IMMEDIATE RELEASE
Kansas City, Mo – DeMolay International is proud to participate in #DeMolayGivingTuesday! #DeMolayGivingTuesday is November 29, 2016, and is a 1-day annual movement focused on charitable giving.
This #DeMolayGivingTuesday, the DeMolay International Board of Directors has stepped up in a big way and will match all gifts up to $2500! Meaning, our goal on this day of giving is to raise $5,000 to support DeMolays throughout the world. And who knows, if all goes well, maybe we can get additional matches from this great group of DeMolay leaders!
Give a gift of $25 or more it will be matched by one of the DeMolay Board of Directors members. Once you have donated, you will be sent an email with a special image to put on Social Media!
Donate by clicking on any of the#DeMolayGivingTuesday or at DeMolay.org/Donate 
For more information, please contact:
DeMolay International
1-800-DEMOLAY (336-6529)
DeMolay@DeMolay.org
DeMolay is the premier youth leadership organization building young men of character and dedicated to making young men better people and leaders. Providing a program based on timeless principles and practical experience, DeMolay strives to not only create the extraordinary leader; but a leader of character.
This is an official publication of DeMolay and acknowledges authority and yields allegiance to DeMolay International, of which Frank S. Land was Founder.