Brother Henry E. "Hank" Stickney was born November 8, 1932. His DeMolay career began at the age of 16 in Thomas Jones Chapter, Ohio. After a fruitful time as a member of DeMolay, Stickney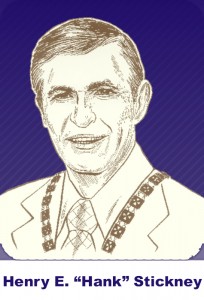 entered and graduated from Case Western Reserve University in 1954. His quest for personal growth and education continued when he received his Masters of Business Administration from Boston University in 1976.
During his formative years, Brother Stickney's love of country lead to a career that would last 21 years. His military career began as a commissioned Second Lieutenant in the United States Air Force commanding many special units in Europe and Asia. His area of expertise included intelligence collection efforts, government negotiations, and foreign liaison work, as well as being a pilot.
Stickney's strong work ethic and management skills were a valuable asset. He founded Western Medical Specialties and Reimbursement Dynamics Inc. Both of which focused on the pharmaceutical and medical industries. He also owns a florist shop, a radio station, a dinner theater, and a satellite TV movie company. He currently owns and operates three Minor League Baseball franchises, the Dayton (Ohio) Dragons, the Shreveport (Louisiana) Swamp Dragons, and the Las Vegas (Nevada) 51s and one Class A team, the Rancho Cucamonga Quakes of the Class-A California League and he is the CEO of Mandalay Baseball Properties and Dillstar Productions, Inc.
Over the years, Brother Stickney has received many honors and awards from DeMolay and his professional life. His DeMolay recognitions include the Chevalier, Cross of Honor, and Legion of Honor. His efforts on behalf of DeMolay have been widespread and generous, including his efforts as Grand Master of DeMolay in 1986-1987.
In his professional life, Brother Stickney has been recognized as Ernst & Young's Entrepreneur of the Year Finalist Award in 2001 and the Inc Magazine's Entrepreneur of the Year in 1986. He is a member of the National Association of Baseball Board of Trustees.