Honors
A recognition of achievement based upon nomination by someone within DeMolay, without the nominee's knowledge of consideration.
Degree of Chevalier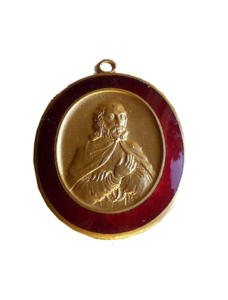 The Degree of Chevalier is the highest honor that an Active DeMolay can receive. This honor also may be granted to a Senior DeMolay. The Degree is a citation for outstanding and marked DeMolay activity and labor. DeMolay International may confer the Degree of Chevalier upon a member of the Order or a Senior DeMolay who has performed unusual and meritorious service in behalf of the Order, who has attained the age of seventeen years as of the first day of the annual meeting of the year nominated and has been a member in good standing for at least two years on that date. An Executive Officer may lower the age eligibility requirement to sixteen.
Legion of Honor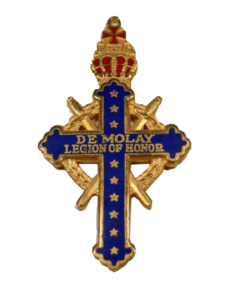 Designed by Dad Land, the Legion of Honor is the highest honor conferred by DeMolay International. DeMolay International may confer the DeMolay Legion of Honor upon a Senior DeMolay, who has attained the age of twenty-five years for outstanding leadership in some field of endeavor, or for success in fraternal life, including adult service to the Order. No one may apply for this distinction, and a nominee, or the membership of a Chapter, must have no knowledge of the recommendation by the Advisory Council. Failure to observe secrecy in making this nomination subjects the nominee to penalty of not being considered.
Honorary Legion of Honor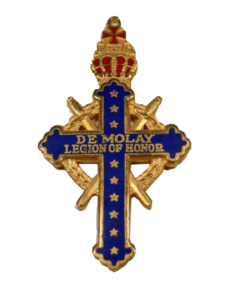 DeMolay International may confer the DeMolay Honorary Legion of Honor upon a Mason who is not a Senior DeMolay, who has attained the age of thirty years as of the first day of the annual meeting of the year nominated, and who has performed unusual and meritorious service on behalf of the Order or who has evidenced a spirit of cooperation and appreciation for the Order. It shall not be given only for service on an Advisory Council.
Cross of Honor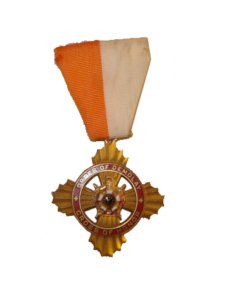 An Advisor who wears the Cross of Honor has received a distinctive honor that can only be given by DeMolay International to a member of an Advisory Council or a personal representative of an Executive Officer. DeMolay International may confer the DeMolay Cross of Honor upon a present or past member of an Advisory Council or upon any personal representative of any Executive Officer who has served at least three years in either or both capacities and whose service has been conspicuously meritorious.
Medal of Valor
DeMolay International may issue the Medal of Valor to an individual who while an Active DeMolay has performed an act of saving or attempting to save a human life.
Medal of Heroism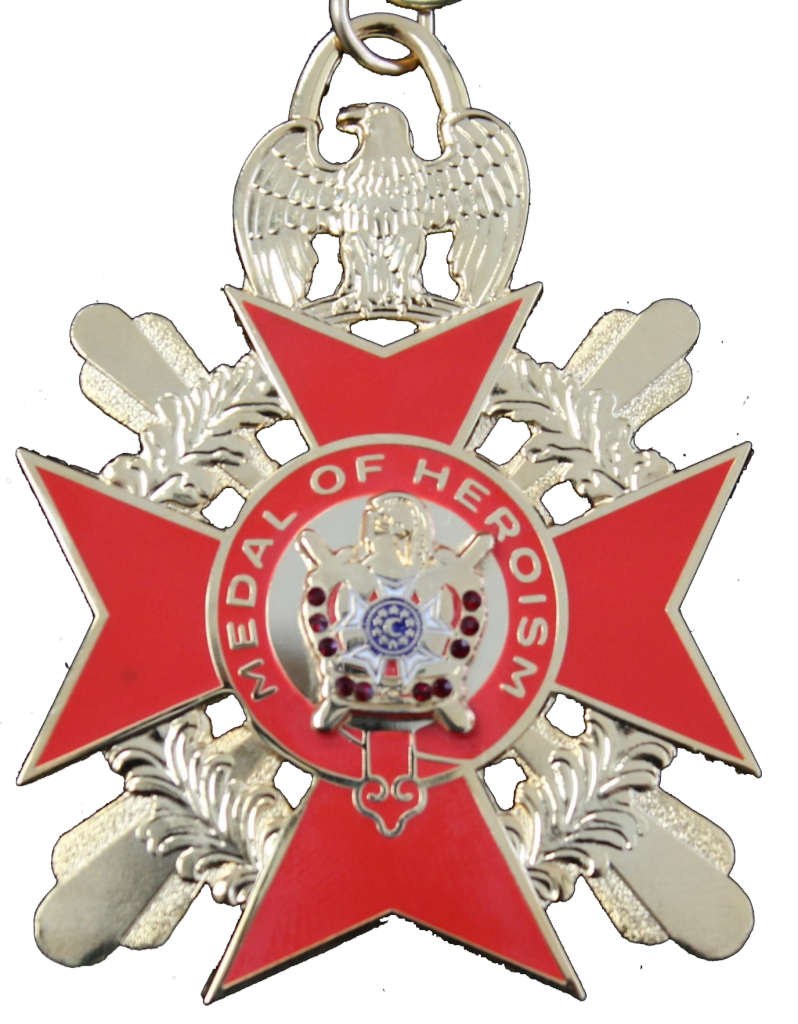 DeMolay International may award the DeMolay Medal of Heroism to an individual who, while an Active member of the Order of DeMolay, voluntarily risked his own life, or voluntarily performed an act of heroism in saving or attempting to save the life of a fellow human being, or sacrificed himself in a heroic manner for the benefit of another.
Awards
An achievement to be worked toward, a goal or a recognition to be earned.
Membership Awards
Membership awards are given for securing new DeMolay initiates. DeMolay International grants these awards automatically. First-line signers may claim the same new members to earn the #1 Lapel Pin, Founder's Membership Award and Blue Honor Key.
#1 Lapel Pin
It's exciting to sign up your first new member. The #1 lapel pin recognizes this important achievement.
Founder's Membership Award
This award is granted to a DeMolay who is the first-line signer on his first five membership applications
Blue Honor Key
The Blue Honor Key is awarded to an Active or Senior DeMolay for being the first-line signer for 10 new members initiated by a Chapter. These 10 membership applications do not have to be secured for any one class or in any one year. An active member who secures fewer than 10 applications before he reaches his majority may complete the requirements list after he reaches majority. Additional Blue Honor Keys, with stars to designate each multiple of 10 new members secured, are also granted.
Green Honor Key
The Green Honor Key is awarded to a Knight for being the first line signer on 10 applications that are accepted by the Priory.  These 10 applications need not be secured for any one class or any one year.  The Green Honor Key is awarded only to an active member of a Priory or to a Senior Knight who holds a Senior DeMolay certificate.  A member of the Priory, who secures fewer than 10 applications before he reaches his majority -provided he holds a Senior DeMolay certificate- may complete the requirements.  Additional stars can be added to the Green Honor Key representing each multiple of 10 new members secured, providing that the proper request is submitted.  The Green Honor Key is awarded by the Supreme Council without charge and nomination blanks may be secured from the DeMolay Service and Leadership Center.
Self-Achievement Awards
These awards are earned by a conscious effort to meet their requirements. 
Lamp of Knowledge
The Leadership Correspondence Course is a five-course program testing your knowledge of DeMolay. The Lamp of Knowledge certificate is awarded for successful completion of the first course.
Representative DeMolay Award
The Representative DeMolay Award is the highest self-achievement award Active and Senior DeMolays can earn. It's a self-assessment program where you progress towards goals you set for yourself. You complete a detailed survey of your interests, achievements, general knowledge, and habits. The Representative DeMolay program was first established in 1924, and for many years was a competition to select outstanding DeMolays. In 1935, the program was redesigned to fill a growing need for self-evaluation by every DeMolay.
Dad Land said it was his dream that every DeMolay should be a Representative DeMolay.
Merit Bars
Merit Bars primarily are awards that recognize DeMolays for achievement in some phase of Chapter activity or in their personal lives while members of DeMolay. Merit Bars are awarded to individual members on the recommendation of the Awards Advisor. The Advisory Council makes a final decision about whether an individual has met the requirements for each bar. Each Merit Bar is produced in five colors. Each color designates the number of times a DeMolay has received a bar in that category. The color designations in order are: White, Red, Blue, Purple, Gold The categories in which Merit Bars are awarded through DeMolay International are Athletics, Attendance, Civic Service, Conclave, Correspondence Course, Fine Art, Fund Raising, Installing, Journalism, Masonic Attendance, Masonic Service, Membership, Merit, Priory, Religion, Ritual, Scholastic, and Visitation.
Past Master Councilor's Meritorious Service Award
The Past Master Councilor's Meritorious Service Award (PMC-MSA) was designed by Dad Land primarily to stimulate greater over-all efficiency in local Chapter Operations.
Past Illustrious Knight Commander Meritorious Service Award
The Past Illustrious Knight Commander's Meritorious Service Award (PIKC-MSA) is the only award for service within the Priory.
Master Squire Meritorious Service Award
The Master Squire's Meritorious Service Award was created to recognize outstanding leadership and cooperation within a Squire Manor. The Master Squire must fulfill these requirements to qualify for this award. 1. At the beginning of his term he must submit a letter stating his intention to qualify for the award with his term plan, approved by a Manor Advisor, to his Executive Officer or their designated representative. 2. Prior to the completion of his term, he must: a. Conduct at least three meetings of the Manor b. Induct at least three new members c. Conduct a Manor social event d. Participate in an event with another DeMolay entity (Manor, Chapter, Priory, or other) e. Participate in a community involvement event. Requirements c, d, and e must be completed separately; he may not use one event to satisfy more than one requirement. 3. As soon as all requirements are completed the Master Squire must notify his Executive Officer, detailing how each requirement was met. The statement must be verified by a Manor Advisor. The Master Squire should submit his statement of completion immediately upon meeting all objectives to allow for the award to presented as quickly as possible. It is not required, or desired, that he wait for the end of the. Term if the objectives are met prior to that point.
Service Recognition Awards
Awards given in appreciation of exceptional DeMolay service.
Certificate of Appreciation
A Certificate of Appreciation may be given at any time during the year. These certificates are available from the Store, which completes the certificate, attaches a seal and sends it to the Chapter for presentation. A formal presentation should be planned and all DeMolay parents and volunteers invited.
Officer's/ Advisor's Service Certificate
Upon the recommendation of the chapter advisor, a DeMolay who serves efficiently as a Chapter officer may obtain a Service Certificate. The Certificate designates the office held, the term, the year, and the name of the Chapter.
Medal of Appreciation
A Chapter may recommend any person over 21 years of age for the DeMolay Medal of Appreciation in recognition of outstanding service to DeMolay. The nominee can be a man or a woman and does not need any Masonic affiliation. Nominations may be made at any time.
DeMolay Year Award
Pin and Certificate given to commemorate reaching 10, 25, 50, 60 65, 70, 75 years past initiation.
Distinguished Service Award (DeMolay of the Year)
DeMolay International established the Distinguished Service Award in fall of 1959. In some jurisdictions, the award is known as the "DeMolay of the Year" award. The purpose of the award is to recognize one DeMolay in each jurisdiction for outstanding service to others, in his home, school, church, Chapter community and country. The Chapter's Advisory Council members select one or more members of the Chapter whom they believe worthy of the recognition. Adult leaders in the community are asked to evaluate the nominee's performance in various areas.
Guild of the Leather Apron (Advisor of the Year)
The Advisor of the Year honor is designated to give singular recognition to a DeMolay Advisor who in the past year has made outstanding contributions to the growth and success of DeMolay. The Advisor is one who should exemplify the ideals and precepts of the DeMolay in their daily life as well as in their work with the young men in DeMolay. Selection of the Advisor of the Year is at the discretion of the Executive Officer of each Jurisdiction.
Advisor's Honor Key
An Advisor's Honor Key is an award granted to the Chapter Advisor or another member of the Advisory Council on the following conditions:
Form 10's, Advisory Council Registrations, the Annual Financial Report and other required reports are submitted by established deadlines during the calendar year.
The net membership must exceed the previous calendar year's net membership.
Initiates must exceed majorities for the calendar year.
After yearly reports have been processed, the Service & Leadership Center sends nomination forms to Advisory Council Chairmen of Chapters fulfilling the first three conditions. The form must be completed and returned to the Service & Leadership Center.
If the same individual receives more than one key, a star is added to the background of each successive key. Only one key can be awarded to a Chapter in each DeMolay year.
Zerubbabel Key
This award encourages establishing new Chapters or reinstating forfeited Chapters. The individual chiefly responsible for organizing a new or reinstated Chapter may be recommended for the Zerubbabel Key. Up to three Zerubbabel Keys are granted for each new or reinstated Chapter. Each nomination for the Zerubbabel Key must be approved by the Executive Officer of the Jurisdiction in which the Chapter is located. The key should be awarded within one year of the institution of the Chapter.