Youth Leadership
INTERNATIONAL DEMOLAY CONGRESS
The DeMolay Congress is the Senate-style body where two voting delegates represent each DeMolay Jurisdiction. The delegates meet once a year and elect an International Master Councilor and an International Congress Secretary, who lead and serve as the heads of the body for a time span of one year.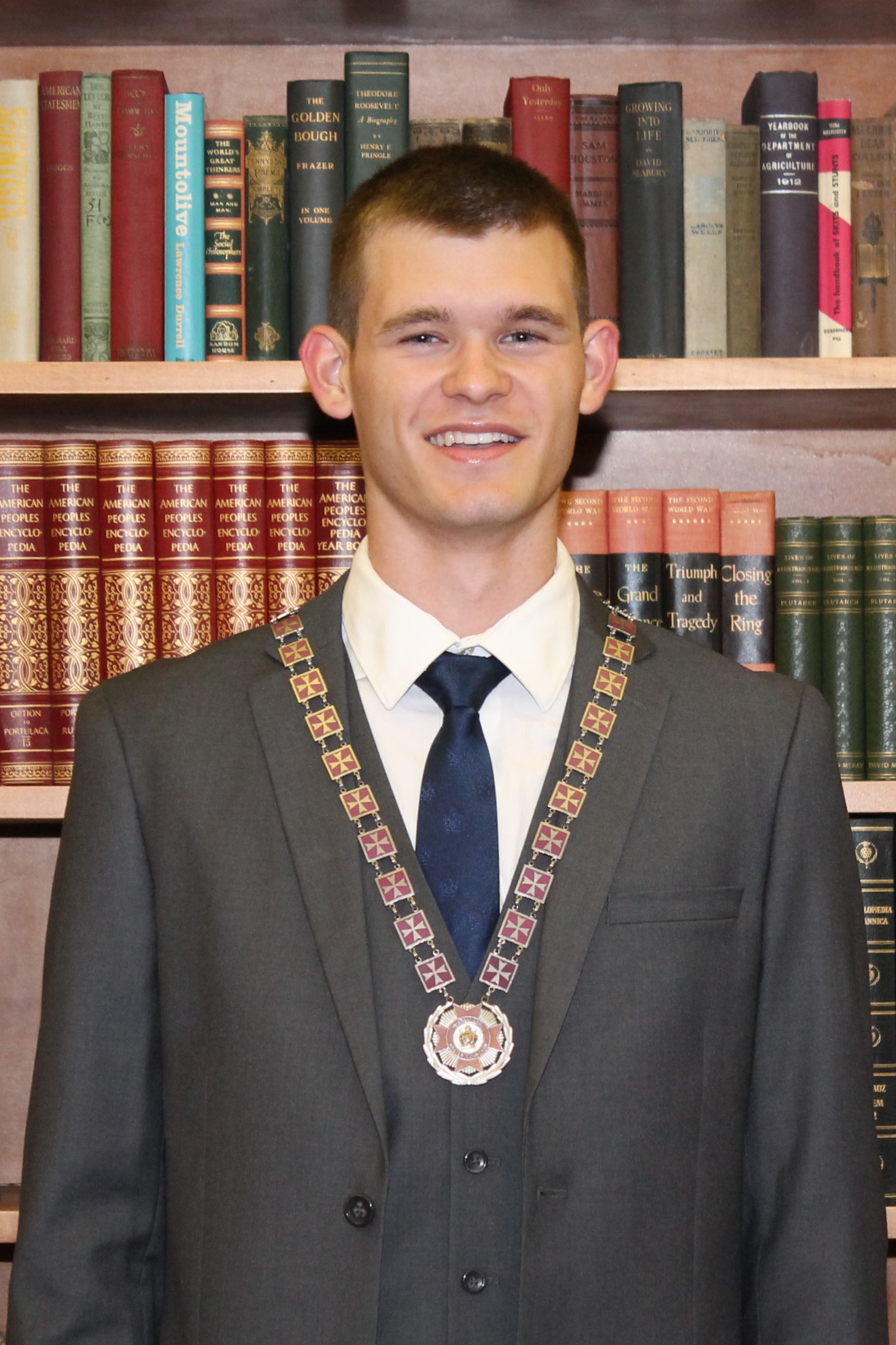 Chase W. Gordon
International Master Councilor
Chase Gordon of Arizona was installed as the 51
st
International Master Councilor on June 17, 2017 in Buffalo, NY.
Chase W. Gordon was inducted into Glendale Chapter in Glendale, AZ on July 11, 2010. Starting in a Chapter of six members, Chase helped grow his Chapter to thirty active members and rose to become Master Councilor of his Chapter. Later he served as State Scribe, State Senior Councilor, Deputy State Master Councilor, and the 89th State Master Councilor of the Arizona DeMolay Association.
Chase has focused much of his time on mentoring others, contributing to charitable organizations, and working with youth with disabilities.
He also possesses a rich history in DeMolay. His father, William, served as the 59th State Master Councilor of Arizona, and his brother, Chandler, served as the 87th State Master Councilor and 49th International Master Councilor.
In his personal life, Chase graduated Sandra Day O'Connor High School in Phoenix, AZ with a 4.5 GPA and served as his Air Force Junior Reserve Officer Training Corps Unit Commander. He also regularly donates to a variety of charities, including the Shriners Hospitals for Children and the Arizona Masonic Foundation for Children.
He is also a Master Mason of Glendale Lodge #23 in Glendale, AZ, the Lodge he grew up in.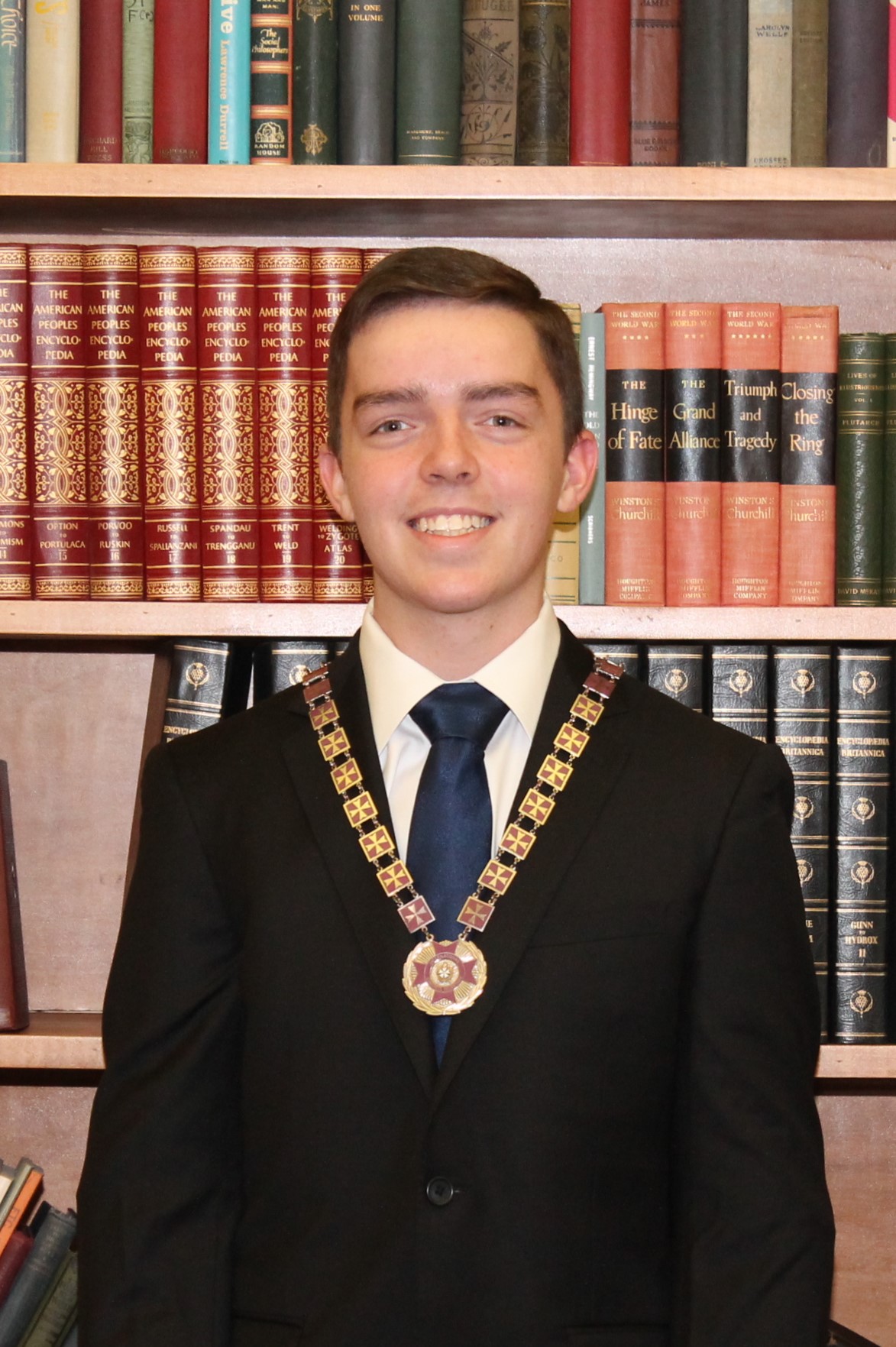 Mason M. Sellars
International Congress Secretary
Mason Sellars of Colorado was installed as the 51st International Congress Secretary on June 17, 2017 in Buffalo, New York.
Mason Monroe Sellars was inducted into Golden Chapter in Golden, Colorado, on May 26, 2011. From the beginning of his DeMolay career he played an integral role in growing the chapter from just a few members to one of the largest in Colorado. The chapter's successes were recognized by being named Chapter of the Year for 2013-14 and 2014-15. In addition to serving his chapter, Mason has been active in the Colorado DeMolay Association, where he has served as State Chaplain, State Junior Councilor, Deputy State Master Councilor, and as its 89th State Master Councilor.
Mason's accomplishments in DeMolay, his contributions to other non-profit and community service organizations, and his various personal accomplishments led to his selection as the 2016 DeMolay of the Year.
A recent high school graduate, Mason looks forward to serving the Brethren of DeMolay before resuming his academic and professional pursuits.
Adult Leadership
INTERNATIONAL SUPREME COUNCIL
The International Supreme Council is the governing body of DeMolay International.  It is composed of dedicated adult leaders from around the world who are responsible for the growth and success of DeMolay. The Grand Master, the Grand Senior Councilor, the Grand Junior Councilor, the Grand Secretary, and the Grand Treasurer are the elected leaders of the International Supreme Council.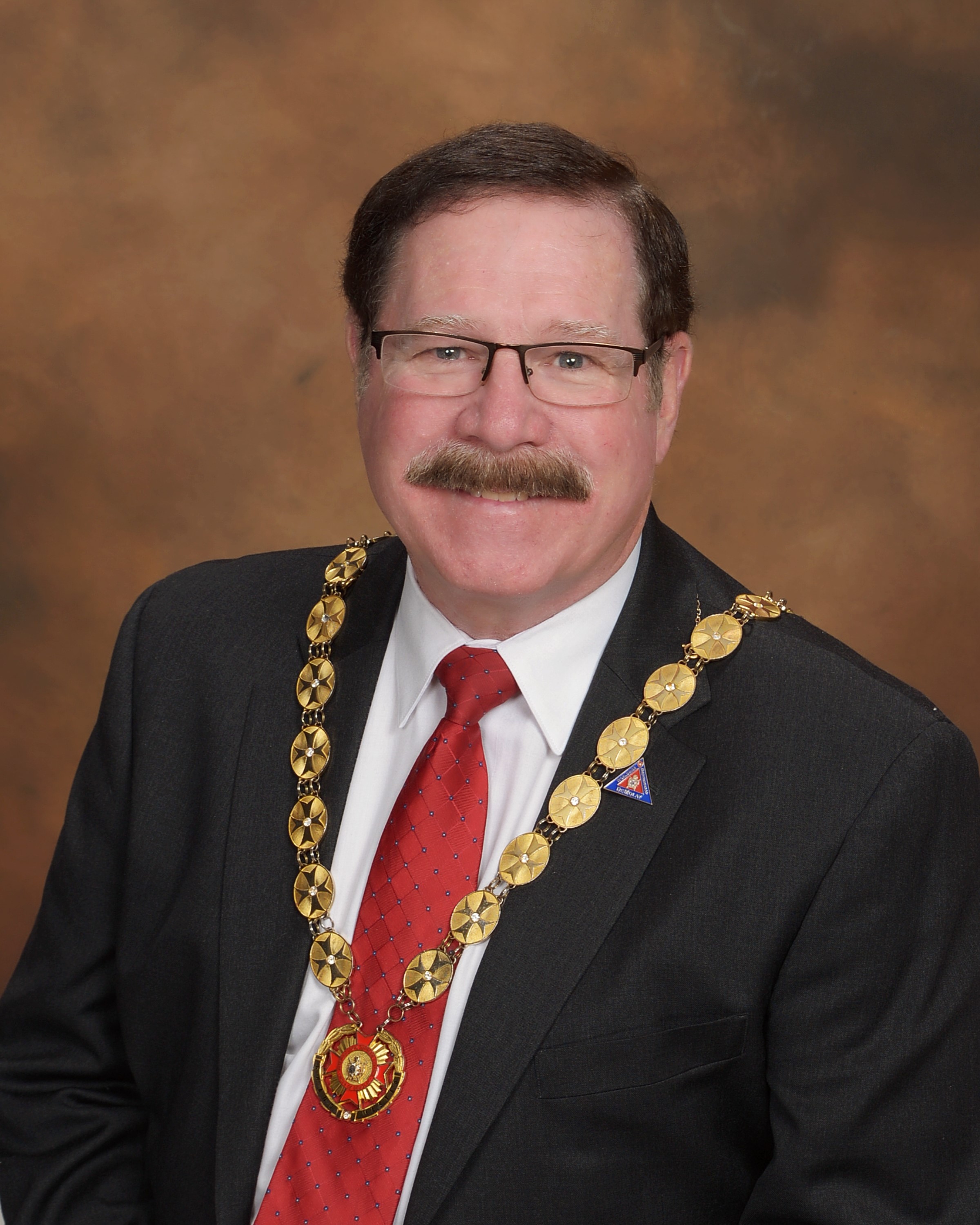 Ronald (Ron) J. Minshall
Grand Master
Ron Minshall of Oklahoma was installed as Grand Master of DeMolay International on June 17, 2017 at the 97th Annual Session in Buffalo, NY.
Ron Minshall was initiated into Del City DeMolay in April 1968, receiving his Representative DeMolay, PMC-MSA, and Chevalier in his time as a member. Additionally, he was elected as State Master Councilor of Oklahoma in 1972.  Ron Minshall served Oklahoma DeMolay as Chapter Dad for Del City DeMolay (1978-1981), Director of Ritual (1983-1993), Director of Conclave (1994-2006), and Executive Officer starting in November 2006.  He has received his Legion of Honor, Cross of Honor, and Guild of the Leather Apron.  Ron is a co-founder of the Frank Marshall Ritual Tournament (founded in 1990) and has served as Chairman, Vice Chairman, Ritual Coordinator, and is currently Registrar. He was elected as a Deputy Member to the International Supreme Council in 1992 and then elected as an Active Member of the International Supreme Council in 1997.  Ron has served on the Ritual and Regalia Committees, Chairman of Nominations, as well as the Region VI Representative for the DeMolay International Board of Directors. In 2013, Ron  was named Executive Officer of the Year. Ron is proud to say that he's only missed one Conclave since he was inducted, and that Oklahoma is consistently in the top ten states for membership in DeMolay International.
Ron is a fourth generation Mason, past master of Del City Lodge #536 and Guildhall Lodge #553, where he is currently serving as Secretary.  He has served Oklahoma Grand Lodge as a District Deputy Grand Master, and as a member on the Youth Committee and Unity Committee. He is a 33rd Degree Scottish Rite from the Guthrie Valley and serves as Director of the 19th Degree Team. Ron is a member of York Rite Bodies of Oklahoma, and he was selected as outstanding Youth Leader for Oklahoma in 2014. Ron  is a past patron of Del City Chapter #496 Order of the Eastern Star, and he has served on the Finance committee for Oklahoma Grand Chapter for six years with two years as chairperson.  Ron belongs to the India Shrine of Oklahoma City.
Ron has been married to his wife Paulette for 35 years and they have one son, Michael, who also served as the State Master Councilor of Oklahoma.  Ron is an Eagle Scout from Troop 87 in Del City, OK obtaining the award at the age of 14. He was also affiliated with Troop 20 in Oklahoma City, OK where his son also received his Eagle at the age of 14. Ron continued to work with the Last Frontier Council as a Wood Badge trainer. Dad Minshall and his family are charter members of St. Andrews United Methodist Church, where he led the building committee in planning and designing the church campus while maintaining the budget for the multi-faceted project.
Ron graduated from the University of Central Oklahoma with a BA in Business Administration.  He has extensive experience in the communication sector and has been a Senior Account Executive for Chickasaw Telecom since 2000. Prior to 2000 Ron was a Regional Sales Manager for Graphic Controls, an oil and gas measurement company, where he managed ten sales representatives in a multi-million dollar territory.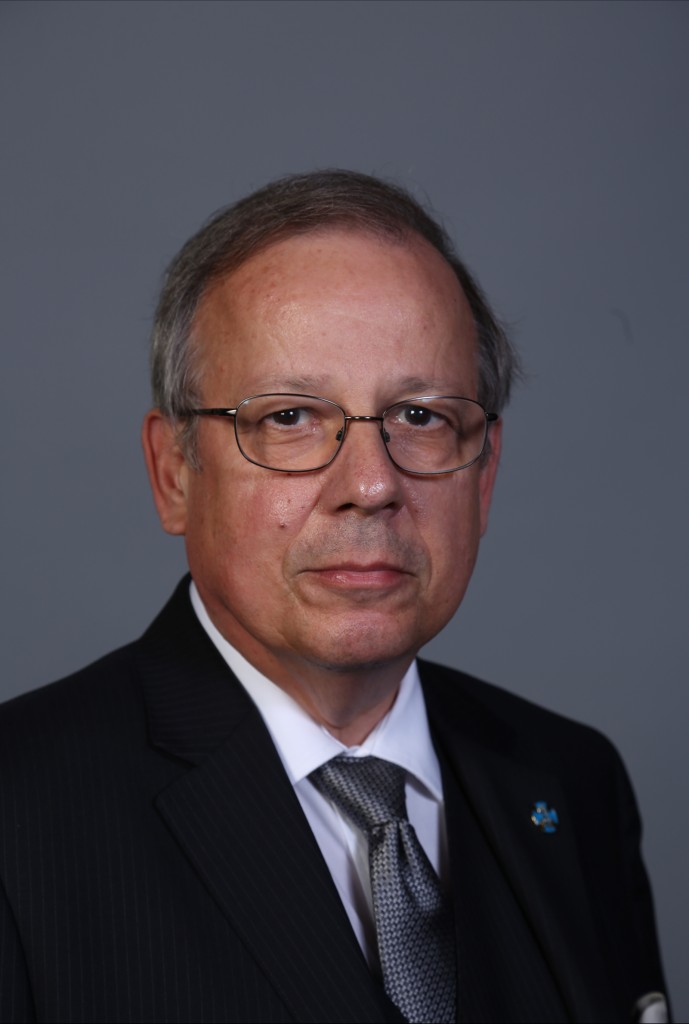 M. Boyd Patterson, Jr.
Grand Senior Councilor
Boyd Patterson of Texas was installed as Grand Senior Councilor of DeMolay International on June 17, 2017 at the 97th Annual Session in Buffalo, NY.
Boyd Patterson is a ninth generation Texan, his great, great, great, great grandfather having died as one of the defenders of the Alamo during the War for Texas Independence.  The family remained in the state during the following generations and he continues that legacy to this day, having graduated from public school in Richardson in 1969 then receiving his Bachelor of Arts Degree from Southern Methodist University in 1972 and his Juris Doctor from SMU in 1975.  Professionally he spent the next eight years in private practice in the north Texas area until being appointed to the bench for life in 1983.  Dad Patterson served as a judge for the next twenty-nine years, the last twenty-five of which as Chief Magistrate Judge for the Criminal District Courts (felony courts) in Dallas County.  After his retirement in 2011 he was retained by Cisco Systems, Inc. as Senior Judicial Advisor for worldwide operations, which position he held until a second and final retirement in February of 2016.
His professional activities have included more than a dozen organizations including the Texas Youth Council, Dallas County Drug Treatment Task Force, Texas Criminal Justice Forum and Dallas County Criminal Justice Management Committee.  In the community, he is a member of St. Barnabas Presbyterian Church and has served as an adult leader for the Boy Scouts of America at both the Cub and Boy Scout levels.  He was President of the Diamond M Club (SMU Alumni), and active in Phi Alpha Theta (history honors society).  Other activities have included the Dallas Opera Society, Dallas Museum of Art and Dallas Zoological Association among others.
Dad Patterson's DeMolay history began in 1966 when he was initiated into Richardson Chapter.  As an active DeMolay he earned the RD Award, PMC-MSA, PIKC-MSA and Chevalier.  In addition to presiding at the Chapter and Priory level he was State Master Councilor of Texas in 1970-71.  As an adult he has served as Chapter Chairman, Priory Advisor and Priory Chairman, District Governor, State Director of Adult Leadership, Conclave Director and State Registrar.  As an Active Member of the Supreme Council he is most known for his tenure on the Jurisprudence and Legislation Committee of which he is currently Chairman.  He is also a Past President of the DeMolay Foundation, Inc.  In recognition of these works he has been presented with the Cross of Honor, Legion of Honor, three Eagle Awards and the Grand Cross.
In Freemasonry his career is a lengthy one.  Among his accomplishments, he is a Past Master of his Lodge, Past High Priest in the Royal Arch Chapter, Past Master in the Council, Past Venerable Master in Scottish Rite, Past President of the Masters, Wardens and Secretaries Association, Past Governor in the York Rite College and Past Sovereign in the Red Cross of Constantine among many other offices.  In 2003 he became the first Past State Master Councilor of Texas to serve as Grand Master of the Grand Lodge of Texas and in that same year was the first Texan to be elected as Chairman of the Conference of Grand Masters of North America.  During these years he has been awarded memorials and medals from the Grand Lodges of Washington, Oklahoma, Sao Paulo in Brazil and the Kingdom of Morocco.  In the United States he has been honored with the Order of the Purple Cross in York Rite, Knight Commander of the Temple in the Grand Encampment of Knights Templar, Thirty-Third Degree Honorary in Scottish Rite, Royal Order of Scotland, National Sojourners, and the IXth Grade in Masonic Rosicrucians.
Both he and his wife of 42 years – Susan – enjoy retirement time with their children and grandchildren, all of whom continue the family tradition of residing in the Lone Star State.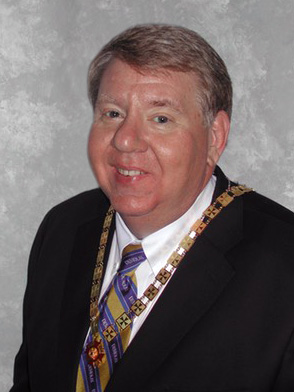 John W. Whitaker
Grand Junior Councilor
John Whitaker of Tennessee  was installed as Grand Junior Councilor of DeMolay International on June 17, 2017 at the 97th Annual Session in Buffalo, NY.
John Whitaker was initiated into Neale M. Rutland DeMolay Chapter in Nashville, Tennessee. Without any Masonic relatives, John joined DeMolay at the suggestion of his older brother, Pat, who was already a member of the chapter. He served as Master Councilor and State Master Councilor of the Tennessee State DeMolay Association (1973-1974). He earned his Representative DeMolay Award and was elected a Chevalier. Upon reaching his majority, John served as Chapter Advisor, Conclave Director, and District Governor. John has served as Executive Officer for DeMolay in Tennessee for 22 years. He has received three Eagle Awards as Executive Officer and was named Executive Officer of the Year.  In recognition of his service, John has also received the Cross of Honor, Active Legion of Honor, Guild of the Leather Apron and the DeMolay Grand Cross (2016). As an Active Member of Supreme Council, John has served on the Youth Protection Committee, DeMolay International Board of Directors, and the DeMolay Foundation Board of Directors.
John is a member of Ionic Masonic Lodge #254 in Nashville, the Scottish Rite Valley of Nashville (KCCH), York Rite, Hendersonville #477 Order of the Eastern Star, Parthenon Court Order of the Amaranth, The Order of Quetzalcoatl and Al Menah Shrine. Because of his commitment to the Masonic Youth in Tennessee, John has also served on the Hendersonville # 3 International Order of the Rainbow for Girls Advisory Board and has received the Grand Cross of Color. In 2015, John assisted with the organization of the DeMolay Alumni Unit at Al Menah Shrine and was named Al Menah Shriner of the Year in 2016.  In recognition of his dedicated service to Tennessee DeMolay, John received the York Rite Youth Medal.
A native Nashvillian, John graduated from Isaac Litton High School and Cumberland College. Professionally, John has been employed at Hermitage Lighting Gallery for over 40 years. He is currently Sales Manager with a concentration on customer development and management of the outside sales force. An active member of the Homebuilders Association for over 42 years, John has served on the Middle Tennessee and State Board of Level. John is a Past President of the Associates Council (2002), President of the Nashville-Metro Chapter (2005-present) and Tennessee Associates Council Chair (2016-2017). He was named Middle Tennessee Associate of the Year (2002 &2012) and Tennessee Associate of the Year (2016).
DeMolay has always been a part of the Whitaker family.  John married his DeMolay Chapter Sweetheart, Claudia and they planned their first state conclave together before their first anniversary. They have two children, Austin and Whitney.  Austin is a Past International Master Councilor and is married to Rachel, a past Tennessee State Sweetheart. He is a pediatrician with Heritage Pediatrics and is currently serving as State Officer Advisor.  Whitney is a Past State Sweetheart, Past Grand Worthy Advisor and Past Acting Supreme Worthy Advisor.  She works in the design center for Goodall Homes, a residential construction company and assists with the sweetheart program.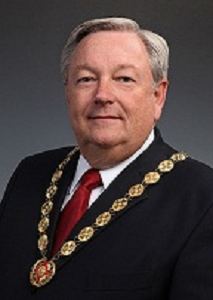 Wesley (Wes) D. Thornton, PGM
Grand Treasurer
Wes Thornton of New Mexico was reinstalled Grand Treasurer of DeMolay on June 17, 2017 at the 97th Annual Session in Buffalo, NY. Wes Thornton was first appointed Grand Treasurer in March of 2012, and elected in June of 2012.
Wesley D. Thornton is a Texan by birth, and a New Mexican by the grace of God. He graduated from Farmington High School, and began his DeMolay experience in Farmington Chapter (now James H. Gibson Chapter) in 1968. He was also a member of New Mexico Knighthood Priory in 1969, and he held the offices of Master Councilor and Illustrious Knight Commander simultaneously. His DeMolay Honors include the PMC-MSA, Blue Honor Key, Representative DeMolay Award, Chevalier, Legion of Honor, and Zerubbabel Key. Dad Thornton was elected as a Deputy Member of the Supreme Council at the 75th Anniversary in 1994, and Active Membership in 1998. He has served the New Mexico DeMolay Association as Director of Finance and Information and as Chairman of the Advisory Council of two different chapters, and has served on the Board of Directors of DeMolay International since 2004, the Region VII Representative for four years, and the elected line for three years and Chairman of the Executive Officer's Conference.  He served as Grand Master of DeMolay International in 2010-2011.  Dad Thornton is also the Executive Officer in New Mexico.
Wesley Thornton served in the United States Air Force and was honorably discharged. After the Air Force, he returned to college and graduated with a Bachelor of Accountancy from New Mexico State University. He met and married Robin Graham while attending college. They have two sons, Andrew and Brian, both of whom are Past State Master Councilors of the New Mexico DeMolay Association.
In 1986, Dad Thornton was licensed as a Certified Public Accountant and began Private Practice in Albuquerque, New Mexico. He is a member of both the American Institute of Certified Public Accountants and the New Mexico Society of Certified Public Accountants.
Wesley Thornton is a fourth generation Master Mason and is twice a past master. In 2002 he was appointed as the Charter Master of Edgewood Lodge No. 82 AF&AM. He is a member of the Scottish Rite Bodies of Santa Fe and the York Rite Bodies of Farmington. He is also a member of the Ballut Abyad Shrine Center in Albuquerque, where he served as Captain of the Shrine Mounted Patrol and Secretary/Treasurer. He is a Past District Deputy Grand Master, Grand Lodge of New Mexico, Past Treasurer of two lodges and served the Grand Lodge of New Mexico AF&AM as Grand Treasurer from 2008-2014.
Dad Thornton became a member of the Scottish Rite in 1976, and received the 33° in 2003, and was elected Treasurer of Valley of Santa Fe Lodge of Perfection, a post he held until 2005.   He was appointed by Sovereign Grand Commander Ron Seale as Deputy of the Supreme Council AASR, Orient of New Mexico in October of 2014.
He received the Red Cross of Constantine in 2009 from Saint Sophia Conclave, and is currently serving the Conclave as Viceroy.
Wesley Thornton is a past  Chief Adept, Grade IX° from the New Mexico College Societas Rosicruciana in Civitatibus Foederatis
He has served on the Board of Directors of the New Mexico Appaloosa Horse Club, and is presently serving on the DeMolay Foundation of New Mexico Board of Directors as Secretary/Treasurer.
The Thornton's are members of the Covenant United Methodist Church in Albuquerque, New Mexico.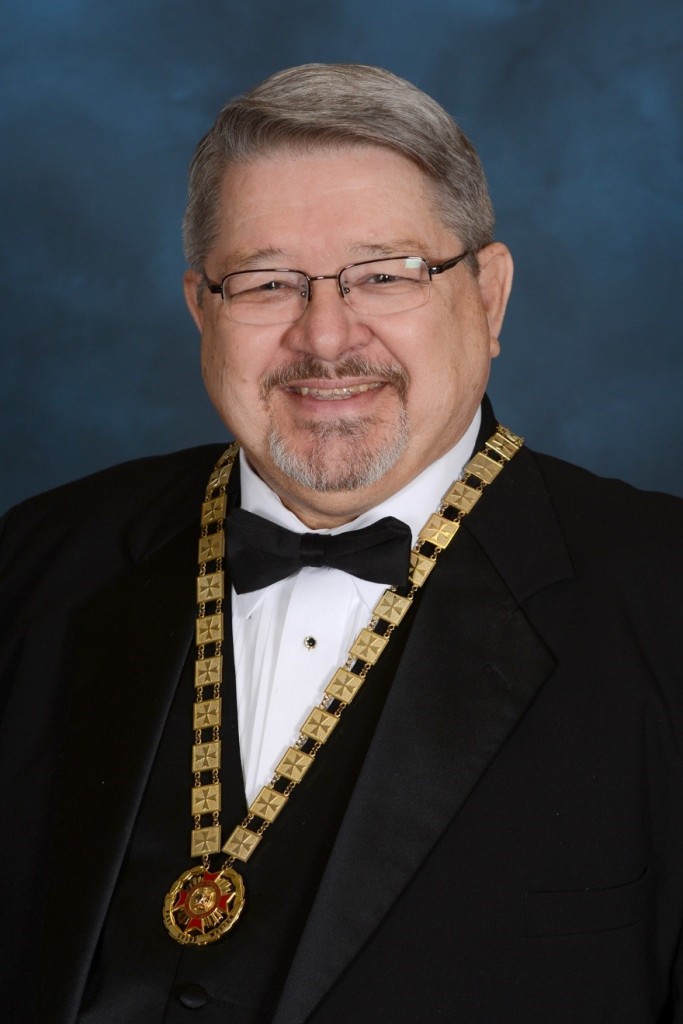 Keith K. Klein, PGM
Grand Secretary
Keith Klein of Indiana was reinstalled Grand Secretary of DeMolay International on June 17, 2017 at the 97th Annual Session in Buffalo, NY. Keith Keith was first elected Grand Secretary in June of 2014.
Keith Klein became a member of Steel City Chapter in Gary, Indiana, on May 22, 1956. He is a PMC of Steel City Chapter. Keith Klein is a Representative DeMolay; He has completed the LCC numerous times and holds a BHK with three stars. He is a Chevalier and holds the Cross of Honor, Legion of Honor, and the Guild of the Leather Apron. He was also the first recipient of the Indiana York Rite Youth Service Award. Keith Klein spent two summers at DI's Headquarters office in Kansas City where he wrote materials for and Directed LTC's throughout the country. He was a staff member and/or Directed LTC's for several years. He served on the Executive Officer's Staff as Athletics Director and numerous administrative positions in Indiana DeMolay including District Governor, State Chapter Dad, and Assistant Executive Officer. Keith Klein was Executive Officer of Indiana, from 1997 – 2003.
While EO of Indiana, the jurisdiction initiated, at least, one more member each year than the previous year, and the jurisdiction experienced net growth each year. He was honored with Grand Master's Eagle Award for ISC Member of the Year in 1993, and received "The Builders Award for Membership Supremacy" in 2003. He also is a recipient of the Grand Master's Award and he is a Frank S. Land Fellow. Keith Klein was DeMolay Congress Advisor from 1988 – 1990. He has been Chairman of the Advisory Council, and has served on a number of DeMolay International Committees. Keith Klein has written and produced the Hall of Fame induction videos for the last 20 years. He has also served as Chapter Advisor for Steel City Chapter for several years. Keith Klein has served as the Region 4 Representative on the Board of Director's twice. Additionally, he has been Director of numerous DeMolay L.T.C.'s and has chaired several DI Committees. Keith Klein has been a frequent Conclave guest and presenter around the country. Keith is now serving his second four year term as a member of his local school board and he was honored by the Board for his three year service as Board President. He is also the recipient of the Bloomington, Indiana, Mae Cassidy Volunteer of the Year Award for his over thirty years as emcee of the Fourth of July Parade and the annual lighting of the Canopy of Lights kicking off the holidays the day after Thanksgiving. Keith is a recipient of the Golden Whistle Award for 50 years of High School officiating. He is recipient of the Ivy Tech Community College Chancellor's Award for Community Service and he was designated a Distinguished Hoosier by Indiana Governor Mitch Daniels.
Keith Klein was elected Grand Junior Councilor of DeMolay International in 2004, and he was elected Grand Master in Seattle, Washington on June 17, 2006. He served as Grand Master 2006 – 2007.
Board of Directors
The Board of Directors transacts all business of DeMolay International and is composed of 19 positions specifically defined in the By-laws. The Board of Directors shall meet during the last three months of the calendar year at a time and place selected by the Grand Master, though traditionally, the Board of Directors meets quarterly to provide executive leadership and guidance for the organization. All actions of the Board of Directors must be ratified by the International Supreme Council, the governing body of DeMolay International.
The following slate of officers and directors were unanimously elected to serve on the Board of Directors for the 2017-2018 term:
* Denotes non-voting members.
** Denotes non-voting employee that has a direct report to the Board of Directors
The Board of Directors consists of the following: one Class 1 member as a representative from each of the DeMolay regions; and the Grand Master, Grand Senior Councilor, Grand Junior Councilor, Grand Secretary, Grand Treasurer, a representative selected from the Executive Officers' Conference, and two Class 6 members of DeMolay International. The Chairman of the Jurisprudence and Legislation Committee, the Chairman of the Budget and Finance Committee and the General Counsel shall be members without a vote.
International Headquarters
DeMolay International – Henry E. "Hank" Stickney Service & Leadership Center
10200 NW Ambassador Drive, Kansas City, MO 64153
1-800-DEMOLAY (Toll Free) | (816) 891-8333  | Fax: (816) 891-9062
DeMolay Office Hours: Monday – Friday 8:30 AM CST to 5:00 PM CST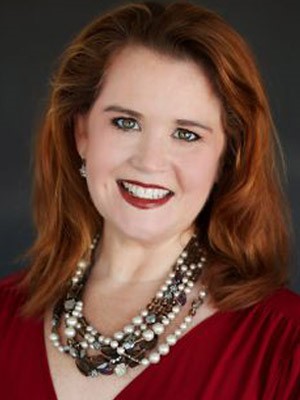 APRIL ANNE ADICKS
Chief Development Officer
RESPONSIBILITIES
Major Gifts, Estate Planning and Gifts
CONTACT INFO
Phone Ext: 519