Youth Leadership
INTERNATIONAL DEMOLAY CONGRESS
The DeMolay Congress is the Senate-style body where two voting delegates represent each DeMolay Jurisdiction. The delegates meet once a year and elect an International Master Councilor and an International Congress Secretary, who lead and serve as the heads of the body for a time span of one year.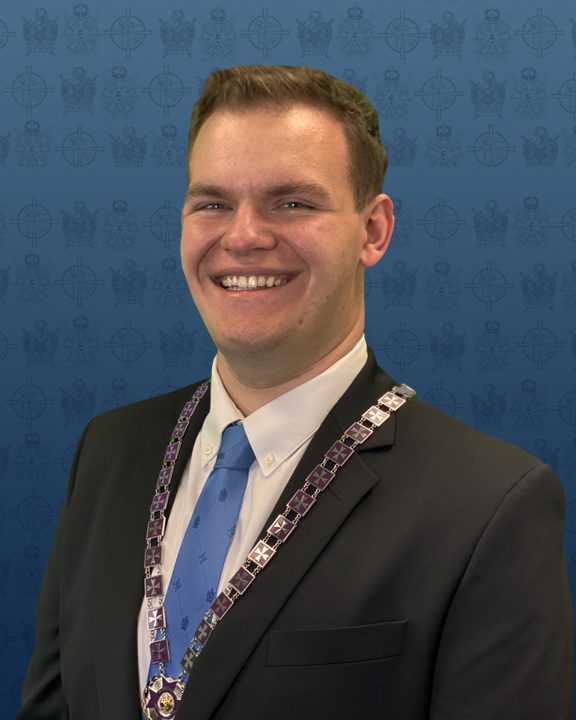 Brett W. Grimm
International Master Councilor
Brett Grimm of Northern California was installed as the 54th International Master Councilor in Kansas City, MO on June 30th, 2020.
Brett joined Valdo A. Sei Chapter in Reno, NV on March 23rd, 2015. Shortly after he joined Valdo Chapter they became a part of the Northern California DeMolay Association. One of Brett's biggest role models is his grandfather Harry Parsons, who is a PMC of Reno Chapter so it was no surprise that Brett would join DeMolay. Brett was installed as Chapter Master Councilor on April 29th, 2017. Shortly after his term as Chapter Master Councilor he ran to serve Northern California as their Jurisdictional Senior Councilor for the 2017-2018 term, and the following year he ran for Jurisdictional Master Councilor and served Northern California in this position for the 2018-2019 Centennial term.
During Brett's term he fostered relationships with his fellow officers that he believes will be lifelong friendships, and he hopes to do the same with those he will be serving this year. As Northern California's Jurisdictional Master Councilor, Brett and his officers placed a heavy emphasis on brotherhood and membership. One of Brett's favorite stories to tell of his jurisdictional year is about him and the fellow officers traveling across the jurisdiction to serve the young men of NorCal in his old (but reliable!) 2002 Ford Explorer, which he added an extra 25,000 miles onto during the year just from travel.
As an active DeMolay Brett has earned his Past Master Councilor's Meritorious Service Award, Northern California Master Councilor of the Year 2017, Distinguished Service Award, Representative DeMolay Award, Blue Honor Key, Lamp Of Knowledge, Northern California DeMolay of the Year 2020, and is a recipient of the Degree of Chevalier. Brett is also extremely proud to have served the 53rd DeMolay Congress as the Advance Committee Chairman.
Brett graduated from Reno High School in 2020 and is now pursuing a degree in nursing from Truckee Meadows Community College with the hope of transferring to the University of Nevada, Reno. He hopes that he will continue to be of service to DeMolay for years to come because he believes that there is no better place for a young man to grow.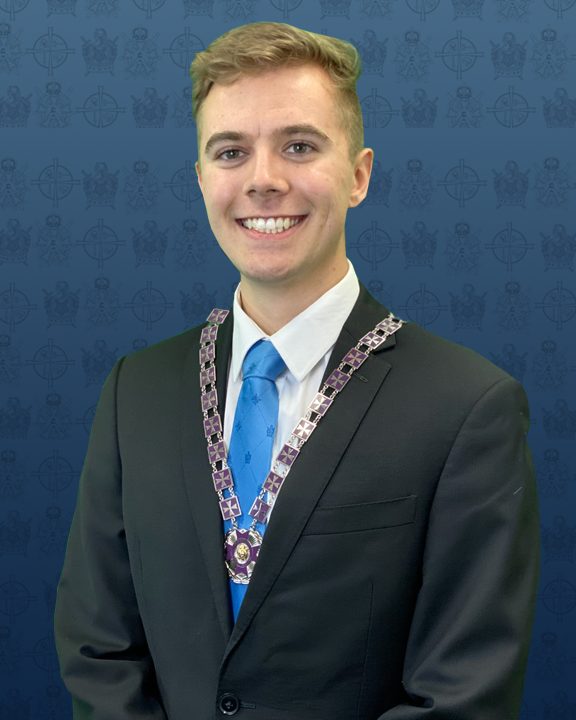 Seaghan A. Ennis
International Congress Secretary
Seaghan Aiden Ennis of Colorado was installed as International Congress Secretary of the International DeMolay Congress on June 30, 2020 in Kansas City, MO.
Seaghan's DeMolay career started just before he was initiated, when he was invited to his first meeting at Colorado Springs Chapter. After encouragement from a lifelong friend and future Master Councilor, Joey Peloso, he became a fully fledged member and brother on March 22nd of 2012. Seaghan was immediately drawn to DeMolay and its teachings. He soon completed his  Leadership Correspondence Courses and earned his Representative DeMolay award. However, his ambitions did not stop there. In December of 2014, Seaghan was elected as Master Councilor of his home chapter. With a firm belief in civic service, he assisted many charities including the Ronald McDonald Charity House and a local food bank. Seaghan was proud to lead his chapter for an Arch of Steel for the laying of a cornerstone which was placed in the City of Fountain's newest Fire Department.
Seaghan's next DeMolay achievement would occur in 2017 where he was honored with his Chevalier. In the true spirit of DeMolay ideals, Seaghan was happy to be invested by his future State Chapter Dad, Dad Hochmuth. Later that day, Seaghan was installed as the State Senior Councilor for Colorado DeMolay. That next year, in June of 2018, he was then installed as Deputy State Master Councilor of Colorado DeMolay. In his term as deputy, Seaghan joined the Ancient Free and Accepted Masons of Colorado becoming both a Entered Apprentice and then a Fellowcraft of Mantou Lodge #68. And finally in 2019, Seaghan became the State Master Councilor of Colorado where he led his jurisdiction to be "A Step Above."
Outside of the world of DeMolay, Seaghan is pursuing his dream of becoming a computer engineer. He graduated from his high school, Pikes Peak Early College, as the Valedictorian and has since earned his Associate of Science from Pikes Peak Community College. Seaghan now attends the University of Colorado where he seeks to finish his bachelor's degree in computer science.
Adult Leadership
INTERNATIONAL SUPREME COUNCIL
The International Supreme Council is the governing body of DeMolay International.  It is composed of dedicated adult leaders from around the world who are responsible for the growth and success of DeMolay. The Grand Master, the Grand Senior Councilor, the Grand Junior Councilor, the Grand Secretary, and the Grand Treasurer are the elected leaders of the International Supreme Council.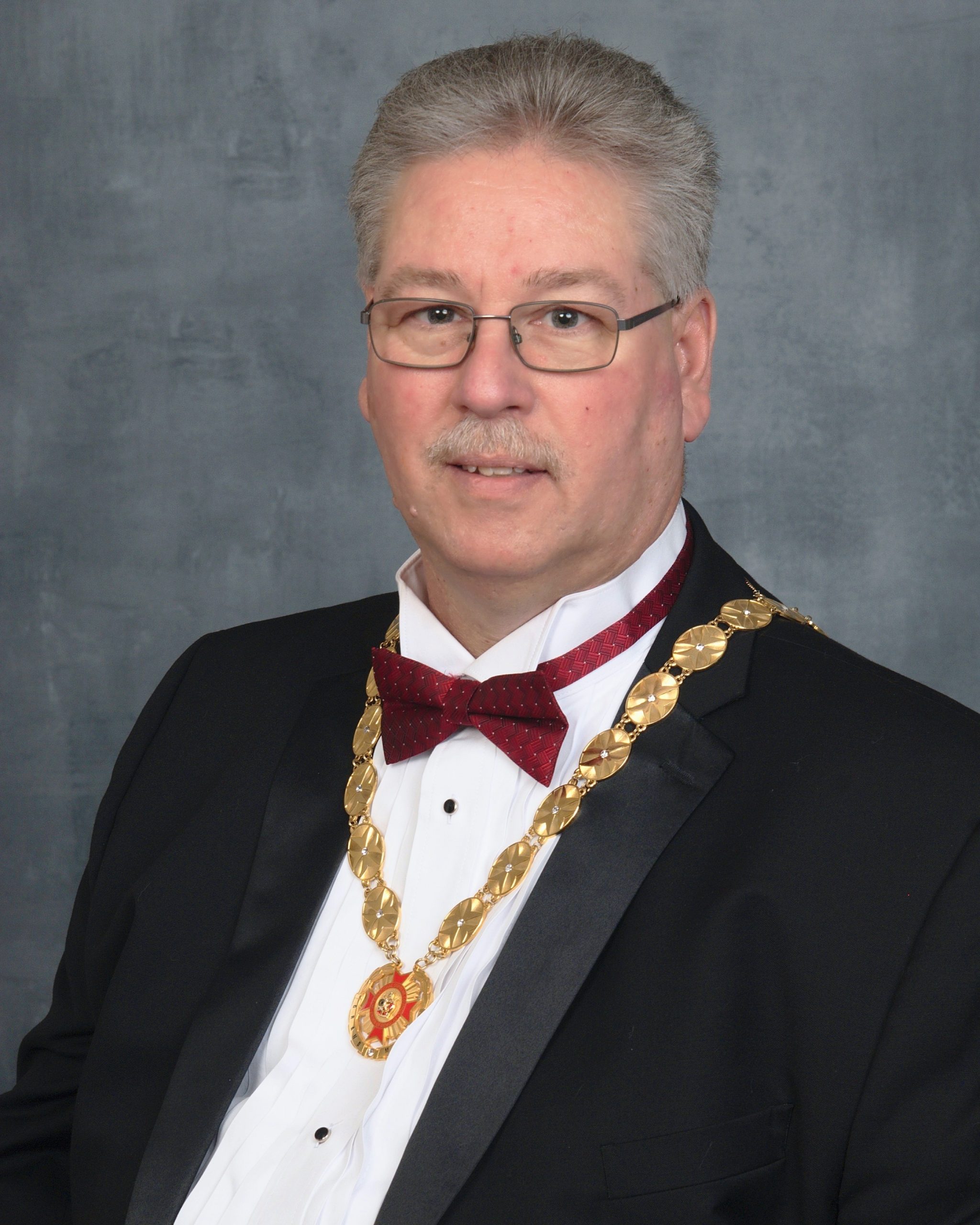 Marc B. Bohn
Grand Master
Marc Bohn of Georgia  was installed as Grand Master of DeMolay International in Kansas City, MO on June 30th, 2020.
Marc Bohn comes from a family with a long Masonic History tracing back to his Great Grandfather.   His step-father, also a Mason, introduced Marc to DeMolay.  In March of 1976, Marc joined Bill Brown Chapter but immediately transferred to Ridge Council Chapter which was a little more active at the time.  By the end of his 1st year in DeMolay, he had 1st line signed 5 petitions and received his Blue Honor Key just before his 2nd anniversary in DeMolay.  Marc received the PMC-MSA in May of 1978.  Later that year he and his family moved to Atlanta, GA where he affiliated with Tucker Chapter in Tucker, GA.
Marc served as Chapter Dad of Panthersville Chapter, Director of Communications, and State Chapter Dad before coming to his current position as Executive Officer of Georgia in 2001.  In recognition of his service, Marc has received the York Rite Youth Medal, The Cross of Honor, Active Legion of Honor, Guild of the Leather Apron and an Eagle Award.  As an Active Member of the Supreme Council, Marc has served as the Region III Representative, Chairman of the Executive Officers Conference, a member of the Youth Protection Committee, and the DeMolay International Board of Directors.
Marc joined Gate City Lodge #2 in Atlanta, GA in 1989 and served as Master of that lodge in 1997.  He is also a member of the Scottish Rite Valley of Atlanta (KCCH) where he served as Commander of the Scottish Rite Guard, a member of the Executive Committee, and Venerable Master of Kadosh of the Consistory.  He is a member of Yaarab Shrine and a founding member of the new DeMolay Unit.
Although most of his high school education was in western New York, Marc graduated from Parkview High School in Lilburn, GA.  He received his bachelor's degree from Georgia State University in Business Administration – Marketing.  He has worked in the corporate world and as an entrepreneur and is currently self employed as an independent insurance agent in property and casualty insurance.
Family and family traditions are very important to Marc.  He married Jane over 35 years ago.  Jane is a Past Beloved Queen of Alogna Triangle in Angola, NY.   While they didn't meet through DeMolay, they started dating when they were 16 and most of their dates were DeMolay or Triangle related.  Jane has been a registered nurse for over 35 years and currently works as part of the emergency room department at Emory University Hospital.  Jane and Marc are very proud of their 3 children, Stephen, Nicholas, and Heather.  Stephen (PMC, PIKC) is married to Chelsea and have one son, Jonahs.  Nicholas (PMC, PIKC) has finished his bachelor's degree in information technology from Georgia State and became a Master Mason at Philologia Lodge #178 in Conyers, GA.  Heather (PWA – Jonesboro Assembly IORG) is currently employed at Office Depot and is figuring out this whole "adulting" thing.
Marc and Jane consider themselves exceedingly blessed and look forward to continuing their DeMolay journey together.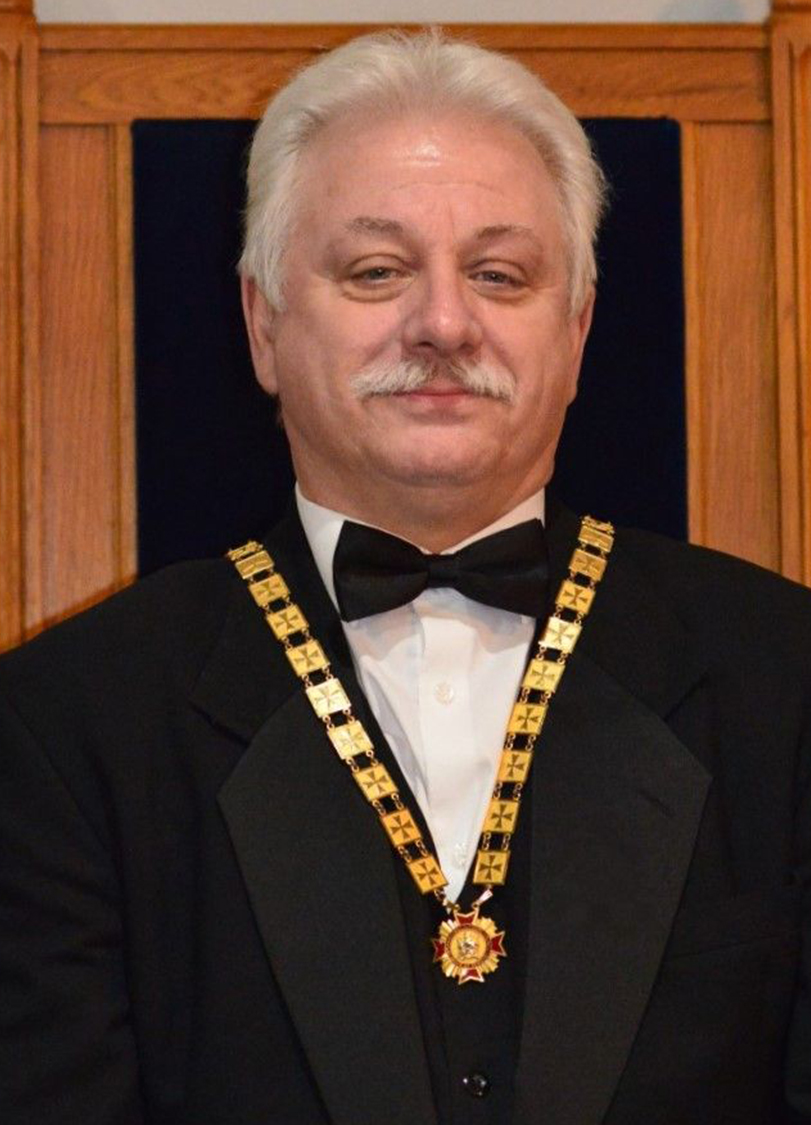 Vincent A. D'Aguanno
Grand Senior Councilor
Vince D'Aguanno of Michigan was installed as the Grand Senior Councilor of DeMolay International in Kansas City, MO on June 30th, 2020.
Vince was initiated into Dearborn Chapter in Dearborn, Michigan in May 1973.  Vince comes from a non-masonic family and joined the Order of DeMolay at the request of a couple of friends from school.  DeMolay quickly became an important factor in his life as he served as Master Councilor of his Chapter, was a District Officer and served on the State level for several years as a Jurisdictional Officer.  He has earned his Representative DeMolay Award, two (2) Blue Honor Keys, a green Honor Key from Priory, served as Illustrious Knight Commander of Marquis de Lafayette Priory, a graduate of the Leadership Correspondence Course, he is a Chevalier, holder of the Cross of Honor and is a member of the Legion of Honor.
After reaching his majority, Vince served as a Chapter Advisor for his own Chapter and for Walt Disney Chapter.  He has been an active advisor for 40 years.  He has served Michigan DeMolay as the Director of Security for Conclave and Winterfest, Registrar, State Chapter Advisor, State Advisor for Training and Adult Recruitment, Deputy Executive Officer and is currently Executive Officer.  Vince has been both of his Chapters outstanding advisor and is a holder of the Guild of the Leather Apron.  Vince is the Past Commander of Marquis de Lafayette Court of Chevaliers, Past Dean of Metropolitan Preceptory, President of the DeMolay Foundation of Michigan, Inc., member of the Board of Directors of the Michigan Masonic Youth Foundation, member of the Michigan DeMolay Hall of Fame.  As an Active Member of the Supreme Council, Vince has served on the Jurisprudence and Legislation Committee, Honors and Awards, Youth Protection; two years as Chairman.
Vince is a member or Olive Branch Lodge #542, Monroe Chapter #1 Royal Arch, Valley of Detroit, Ancient and Accepted Scottish Rite, Northville Council R&SM, Crusader Council Allied Masonic Degrees, Detroit Commandery #1, Moslem Temple Shrine, Orient Chapter #77, Order of the Eastern Star.  Because Vince is committed to serving Masonic Youth, he serves on the Advisory Board of Northville Assembly #29, International Order of Rainbow for Girls and has been honored with the Rainbow Grand Cross of Color.
Vince is a native Michiganian, not a Michigander, he graduated from Edsel B. Ford High School in Dearborn, Michigan.  He graduated from Michigan State University with two Bachelors of Arts, one in Criminal Justice and another in Anthropology.  Vince is a graduate of Thomas M. Cooley Law School.  Professionally, Vince was an attorney for the Office of the Inspector General for the State of Michigan for the last 30 plus years.  He is currently retired.
DeMolay has been a very big part of Vince's life, he married his Chapter Sweetheart, Tammie and they just celebrated their 40 th anniversary January 3, 2021.  Tammie is a past Worthy Advisor, Mother Advisor and continues to be very active in Rainbow.  Tammie is a Social Worker and current Director of COPE.  They have two children, Amberlyn (PWA, Dearborn Assembly) and Dominic (PMC, Dearborn Chapter).  Amberlyn is a nurse, working with elderly and disabled patients.  Dominic works for the State of Michigan as a consultant for the State Opioid Response Grant, Individual Placement and Support, overseeing four pilot programs to provide employment and support services to individuals 18-25 with opioid use disorders.  Both Tammie and Vince are very proud that their children continue in fields of service to others.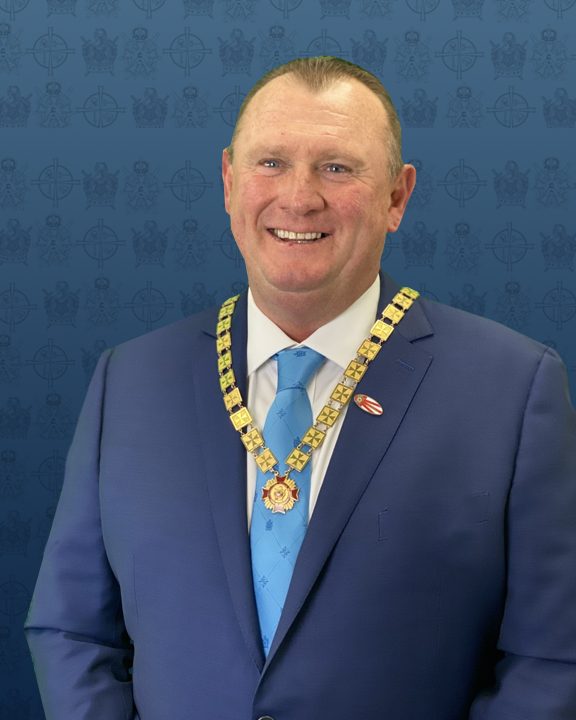 Jonathan R. Sellars
Grand Junior Councilor
Jonathan R. Sellars of Colorado was installed Grand Junior Councilor on June 30, 2020 in Kansas City, Missouri.
Jonathan (Jon) comes from a family with strong ties to the Masonic family. His Grandfather was a very active Mason who was study partners and attended Lodge meetings many years ago with President Harry Truman in Independence, MO.
Jon was raised as a Master Mason at his home Lodge, Collins #19 in Fort Collins, Colorado and is now also a member of Golden City Lodge #1 in Golden Colorado. He currently sits as the chairman for the Colorado Grand Lodge Youth Committee is a trustee of the Colorado DeMolay Foundation and has served as the Chairman of the Colorado Grand Lodge Markers, Memorials, and Monuments committee for over ten years. He is the recipient of several honors and awards for his work which include The Grand Master's Award of Excellence, The Grand Master's Distinguished Service Award, The Grand Lodge Meritorious Service Award, The Cryptic Masons Humanitarian Award, and he just recently received, for his distinguished service to Freemasonry, the honor of being named Companion of the Temple by the Grand Encampment of the Knights Templar, he has also earned philanthropic and service recognition in other areas of Freemasonry and within his community. Jon is a member of the Denver Consistory of the Ancient & Accepted Scottish Rite and has been elevated to the rank & decoration of Knight Commander of the Court of Honor. He is also a member of El Jebel Shrine and Mt. Zion Order of Eastern Star.  
The love for DeMolay that Jon holds did not begin as a youth. Unfortunately, he was not introduced to the Order of DeMolay until having a son of his own who attended many Masonic events, had heard about the organization, and could not wait to join when he was old enough to do so. Once his son joined, Jon and his wife took a very active role at the Chapter level. He became Chapter Chairman and then Chapter Advisor, which he still says is one of his favorite jobs in DeMolay. Not too long after, he and his wife took positions on the State Staff and have remained busy throughout the state ever since. Dad Sellars is now the Executive Officer of Colorado.  Colorado has seen growth for more than ten years consecutively under Dad Sellars leadership. Prior to his appointment as Grand Junior Councilor, Dad Sellars served as a trustee and Treasurer of the DeMolay Foundation. He has worked on committees and continues to remain very active with his state staff, state officers, advisors, and members of his jurisdiction. He is a recipient of two Grand Master's Eagles, the Horizon Award, and most recently, the Executive Officer of the Year. His favorite honor, however, has been having the satisfaction of watching his son and the sons of others benefit from all that DeMolay offers.
Jon and his wife Kellie live in Castle Rock, Colorado. Their children are now adults working and living away from home. Taylor, their daughter, works for a law firm in Denver, and Mason is living in Massachusetts, working for the Grand Commander at the Scottish Rite, Northern Masonic Jurisdiction. Both thoroughly enjoy their jobs, are taking college courses, and looking forward to a bright future. Other than DeMolay, Dad Sellars enjoys travel, fishing, working outdoors, and spending time with his family.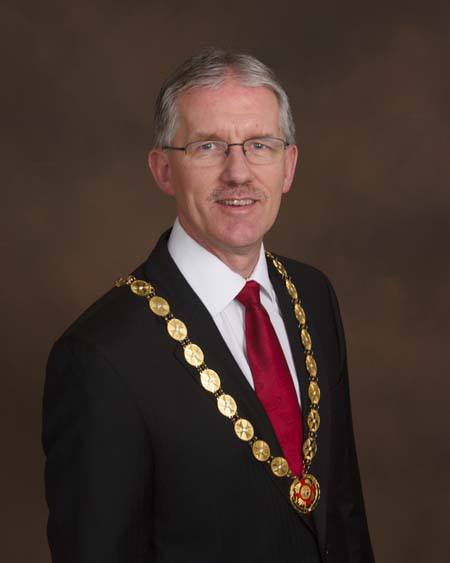 Gregory A. Chiles, PGM GC
Grand Treasurer
Gregory A. Chiles of Indiana was installed as Grand Treasurer of DeMolay International in Kansas City, MO on June 30th, 2020.
Dad Chiles received the degrees of DeMolay in December 1972 in Beech Grove Chapter.  He served as Master Councilor in 1976 while a Senior at Warren Central High School.  His DeMolay Honors include Blue Honor Key, Representative DeMolay, Chevalier, Legion of Honor and Cross of Honor.  He served Indiana DeMolay as State Master Councilor in 1978-1979.  Dad Chiles was appointed as Executive Officer for Indiana in November, 2003 and was elected an Active Member of the Supreme Council at the 85th  Anniversary in 2004.  Dad Chiles retired as Executive Officer in June, 2018.   Prior to assuming the role of Executive Officer, Dad Chiles served as Conclave Director for Indiana DeMolay for 10 years.  He has served two consecutive terms on the Board of Directors of DeMolay International as the Region IV Representative and was Chairman of the Executive Officers Conference in 2009.  He was elected Grand Master on June 23, 2012.  Dad Chiles has served as Chairman of the Budget & Finance Committee since 2014.  He was elected Grand Treasurer on June 29, 2019.
Dad Chiles is a Charter Member of Frank S. Land Lodge in Indianapolis where he served as Worshipful Master in 1988 and 1998.  He is a member of the Scottish Rite Valley of Indianapolis, where he served as Most Wise Master from 2006-2008.  In August 2006 Dad Chiles received his 33rd Degree in Chicago.  He is a member of the York Rite Bodies of Noblesville and a member of the Murat Shrine Indianapolis.  He is a Past Patron of Cicero Chapter, OES.
A graduate from Butler University, Dad Chiles has a degree in Business Management and is an avid Bulldog Basketball fan.  In 1990, Dad Chiles passed his CPA exam.  He has been the Business Manager for St. Simon the Apostle Catholic Church May, 2003.
Greg and his wife Dawn live in Carmel and have one grown daughter, Allison.  When not at work or a DeMolay event, Dad Chiles enjoys jogging and officiating basketball and softball games.  A licensed Indiana High School official, Dad Chiles works school games, as well as, travel ball.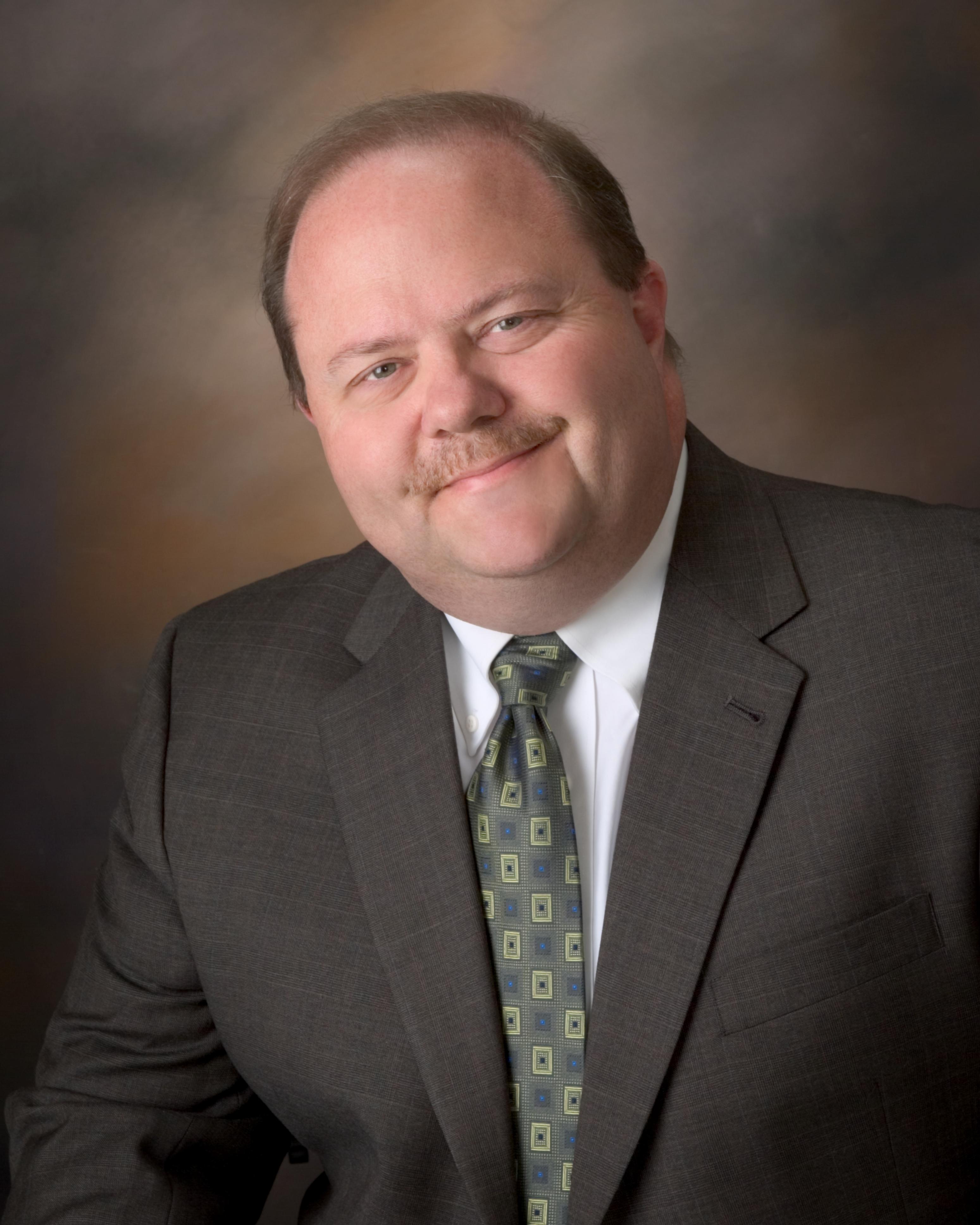 Greg L. Kimberling, PGM GC
Grand Secretary
Greg L. Kimberling of Idaho was installed as Grand Secretary of DeMolay International in Kansas City, MO on June 30th, 2020. 
Greg Kimberling was initiated into E-Dah-Ho Chapter, Moscow, Idaho in 1971.  His family has three generations of Membership in the chapter dating back to 1939.  He served as Master Councilor in 1974 and Idaho State Master Councilor in 1977.
He has served in various chapter, district and state positions.  He served as Executive Officer of Idaho on three different occasions from 1991 to 2012.  He served as Regional Representative for Region 8 and elected Grand Junior Councilor in 2001.  He was elected the 73rd Grand Master of DeMolay serving in 2004-2005.   Greg has served as Chairman of the Nominating Committee, Budget and Finance Committee, Insurance Committee, Chairman of the Executive Officer's Conference and currently serves as Chairman of International Relations.
He is a Chevalier, Legion of Honor and has received a number of Eagle Awards including; The Life Time Achievement Award, Executive Officer of the Year and Member of the Year.  He is an Honorary Member of both the Supreme Council of Brasil and the Philippines.
Greg is Past Master of Paradise Lodge #17, AF & AM in Moscow.  He belongs to a number of Masonic organizations including Scottish Rite, York Rite, Shrine and Eastern Star.
He is the owner of Greg Kimberling Insurance whose prinicipal office is in Moscow, Idaho.  He has been a member of the Farmers Insurance President's Council now for 12 consecutive years and recently was named a Tyler & Leavey Award Winner as one of the top 6 Farmers agencies in the United States out of 13,500.
Greg has served on a number of boards and community organizations over the years.  He is the former Mayor of Wallace, Idaho and received the Governor's Award for outstanding service from Hall of Fame Member Cecil Andrus in 1992.  He recently stepped down as the Board Chair of Gritman Medical Center after 16 years  and has received the Idaho Hospital Asssociation Trustee of the Year Award for 2019.  He served as National President of the University of Idaho Vandal Booster organization.
Board of Directors
The Board of Directors transacts all business of DeMolay International and is composed of 19 positions specifically defined in the By-laws. The Board of Directors shall meet during the last three months of the calendar year at a time and place selected by the Grand Master, though traditionally, the Board of Directors meets quarterly to provide executive leadership and guidance for the organization. All actions of the Board of Directors must be ratified by the International Supreme Council, the governing body of DeMolay International.
The following slate of officers and directors were unanimously elected to serve on the Board of Directors for the 2019-2020 term:
* Denotes non-voting members.
** Denotes non-voting employee that has a direct report to the Board of Directors
The Board of Directors consists of the following: one Class 1 member as a representative from each of the DeMolay regions; and the Grand Master, Grand Senior Councilor, Grand Junior Councilor, Grand Secretary, Grand Treasurer, a representative selected from the Executive Officers' Conference, and two Class 6 members of DeMolay International. The Chairman of the Jurisprudence and Legislation Committee, the Chairman of the Budget and Finance Committee and the General Counsel shall be members without a vote.
International Headquarters
DeMolay International – Henry E. "Hank" Stickney Service & Leadership Center
10200 NW Ambassador Drive, Kansas City, MO 64153
1-800-DEMOLAY (Toll Free) | (816) 891-8333  | Fax: (816) 891-9062
DeMolay Office Hours: Monday – Friday 8:30 AM CST to 5:00 PM CST
CHRISTIAN D. MOORE, CPRP
Executive Director
RESPONSIBILITIES
Executive Management
Staff Oversight
Public Relations
CONTACT INFO
Phone Ext: 503
Charity Lankford
Office Manager
CONTACT INFO
Phone Ext: 503
Matthew Cordoves
Membership Services Representative
Jake Vermeulen
Membership Services Representative
JUSTIN M. LEE
Assistant Executive Director
RESPONSIBILITIES
Accounts receivable & accounts payable
Financial operations
Internal financial controls
CONTACT INFO
Phone Ext: 521
BECCA WINNER
Director of Administration & HR
RESPONSIBILITIES
Active & Senior Member Services and Records
Leadership Correspondence Course
ShopDeMolay Liaison
CONTACT INFO
Phone Ext: 501
BOBI L. MADDUX
Manager of Administration
RESPONSIBILITIES
Chapter Services
Registration of New & Continuing Advisors
Registration of new Chapters/ Manors/Courts/Priories/Preceptories
CONTACT INFO
Phone Ext: 502
TJ LANGE
Director of IT & Media
RESPONSIBILITIES
Media Design and Management
Website Design and Management
IT Support
CONTACT INFO
Phone Ext: 511