Youth Leadership
INTERNATIONAL DEMOLAY CONGRESS
The DeMolay Congress is the Senate-style body where two voting delegates represent each DeMolay Jurisdiction. The delegates meet once a year and elect an International Master Councilor and an International Congress Secretary, who lead and serve as the heads of the body for a time span of one year.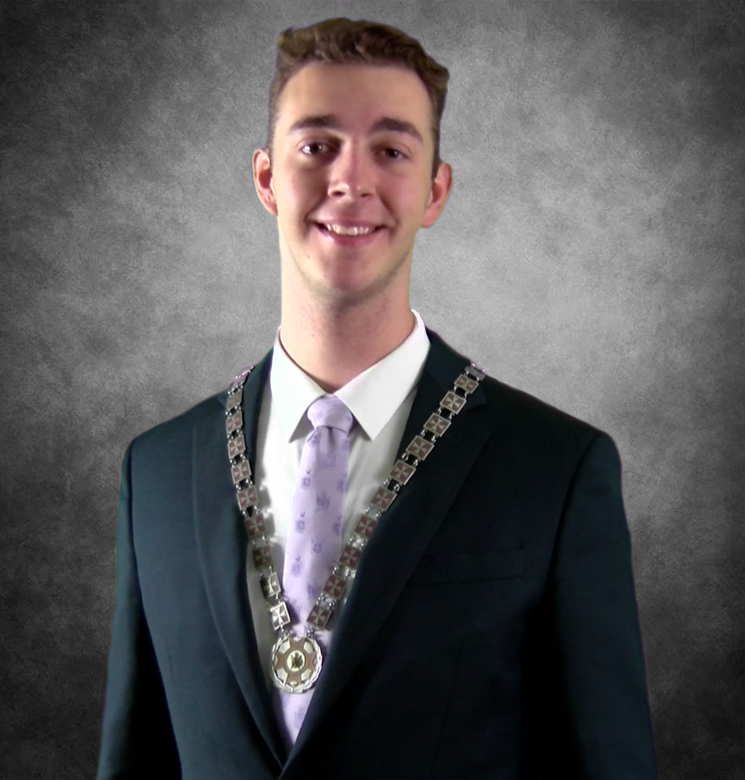 Cade Lowrance
International Master Councilor
Cade Lowrance of Tennessee was installed as the 55th International Master Councilor in Dallas, TX on June 19th, 2021.
Amos Dodson "Cade" Lowrance IV was initiated into Sequatchie Valley Chapter in Dunlap, TN on July 12, 2014. Cade comes from a Masonic and DeMolay related family. His father, both uncles, and a cousin are all Past State Master Councilors of DeMolay in Tennessee, and his mother was a Rainbow Girl and Chapter Sweetheart. DeMolay quickly became a second home for Cade and he attended as many events as he could. In July 2016, Cade was installed as State Scribe and, one month later, he was installed as Master Councilor of Sequatchie Valley chapter. Two years later, Cade was a founding member of a new chapter in Chattanooga, TN, F.E. Anderson, sponsored by Alhambra Shrine where Cade's father, grandfather, and great-grandfather were all members. In February 2019, he was installed as Master Councilor of F.E. Anderson, serving until June 2021.
Cade was installed as State Master Councilor of DeMolay in Tennessee in July 2020. He is also a member of T.D Harden Priory, Centennial Priory, (for which he was a member of the Centennial Priory Officer team and degrees), and Fred Mealor Chapter in Dalton, GA. Cade has earned the Representative DeMolay Award, the Lamp of Knowledge, and the Blue Honor Key. He is a Tennessee DeMolay Master Ritualist. He was invested with the Degree of Chevalier in 2020. 
Cade is a Master Mason in Rossville Lodge #397 of Rossville, GA and a member of Alhambra Shrine.
Cade lives in Ringgold, GA with his Mom, Casey, Dad, Trey, three younger brothers: Coen, Chasen, and Creed. He is a graduate of Chattanooga Christian School and currently enrolled as a freshman at the University of Georgia. Cade is studying Business with plans to pursue a career in Finance, Real Estate, and politics.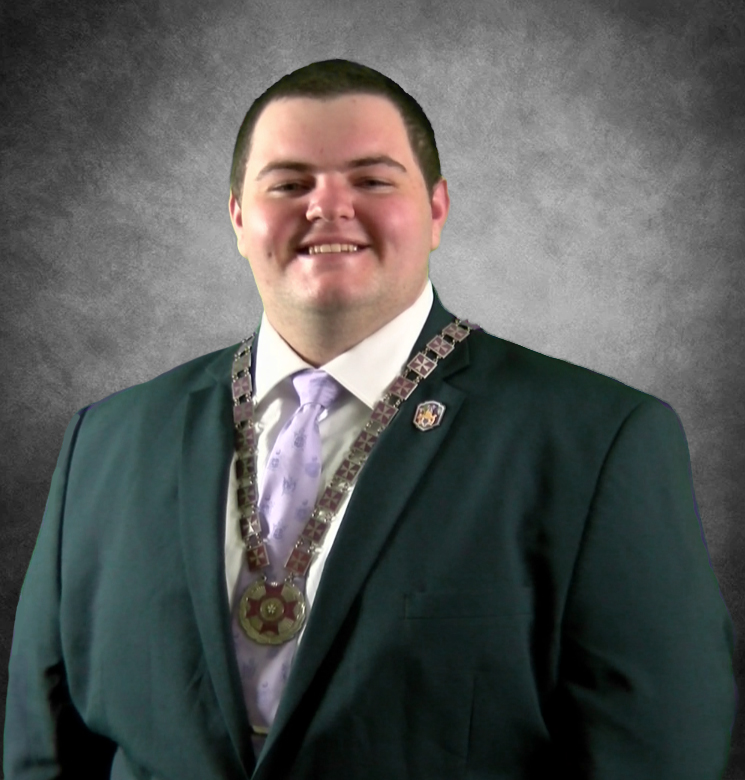 Andrew Caster
International Congress Secretary
Andrew Caster of Southern California was installed as International Congress Secretary of the International DeMolay Congress on June 19th, 2021 in Dallas, TX.
Andrew was initiated into Liberal Arts Chapter in 2012, after having been the "chapter mascot" since birth. He knew early on that he wanted to move up the ranks in DeMolay and wanted to one day hold international office. Guiding his jurisdiction in new directions through COVID, Andrew served as Southern California Jurisdiction Congress Secretary in 2019 - 2020, and as Southern California Jurisdiction Master Councilor2020-2021.
As a jurisdictional officer, Andrew was instrumental in developing a Jurisdiction Discord server to bring his jurisdiction members together virtually and provide peer to peer homework help. He also started "Fitness February" to challenge the jurisdiction to get active on their own with incentives for participation, and has made his jurisdiction's philanthropic project this year the Scottish Rite Childhood Language Centers. Prior to his two years as a jurisdictional officer, Andrew served as his Chapter Master Councilor four times, Diamond League President, and Illustrious Knight Commander of St. Bernard's Priory. He has his Blue Honor Key, Founder's Membership Award, and is a Chevalier.
Outside of DeMolay, Andrew enjoys singing and playing club rugby. Andrew has dyslexia, and is a vocal advocate for inclusion of those with learning differences. One of his specific ideas he is trying to implement this year is putting together an audio or e-book for ritual, to help those members who process better auditorily. He also wants to widen DeMolay's social media platforms and presence to target and bring together older members and Senior DeMolays who are away at college, and connect them not just with each other, but with members who are exploring their college options in the upcoming years.
Andrew is currently attending Santa Monica College, and plans to transfer to Utah State University next year to pursue aviation, but is leaving his options open to consider whatever opportunities come his way in the next year.
Andrew was born with DeMolay and Masonry in his genes. His parents, who met when his Mom was SCJ Princess and his Dad was Chapter Master Councilor, have been advisors of Liberal Arts and at the league and jurisdictional level since his birth, and Andrew's sisters are both members of his local Job's Daughter bethel. Andrew's father, maternal grandfather, and uncles are members and Past Masters of Liberal Arts Lodge, and his paternal great-grandfather was Past Grand Master of Massachusetts. Andrew is an Entered Apprentice and hopes to get his third degree and become a Master Mason this year.
Adult Leadership
INTERNATIONAL SUPREME COUNCIL
The International Supreme Council is the governing body of DeMolay International.  It is composed of dedicated adult leaders from around the world who are responsible for the growth and success of DeMolay. The Grand Master, the Grand Senior Councilor, the Grand Junior Councilor, the Grand Secretary, and the Grand Treasurer are the elected leaders of the International Supreme Council.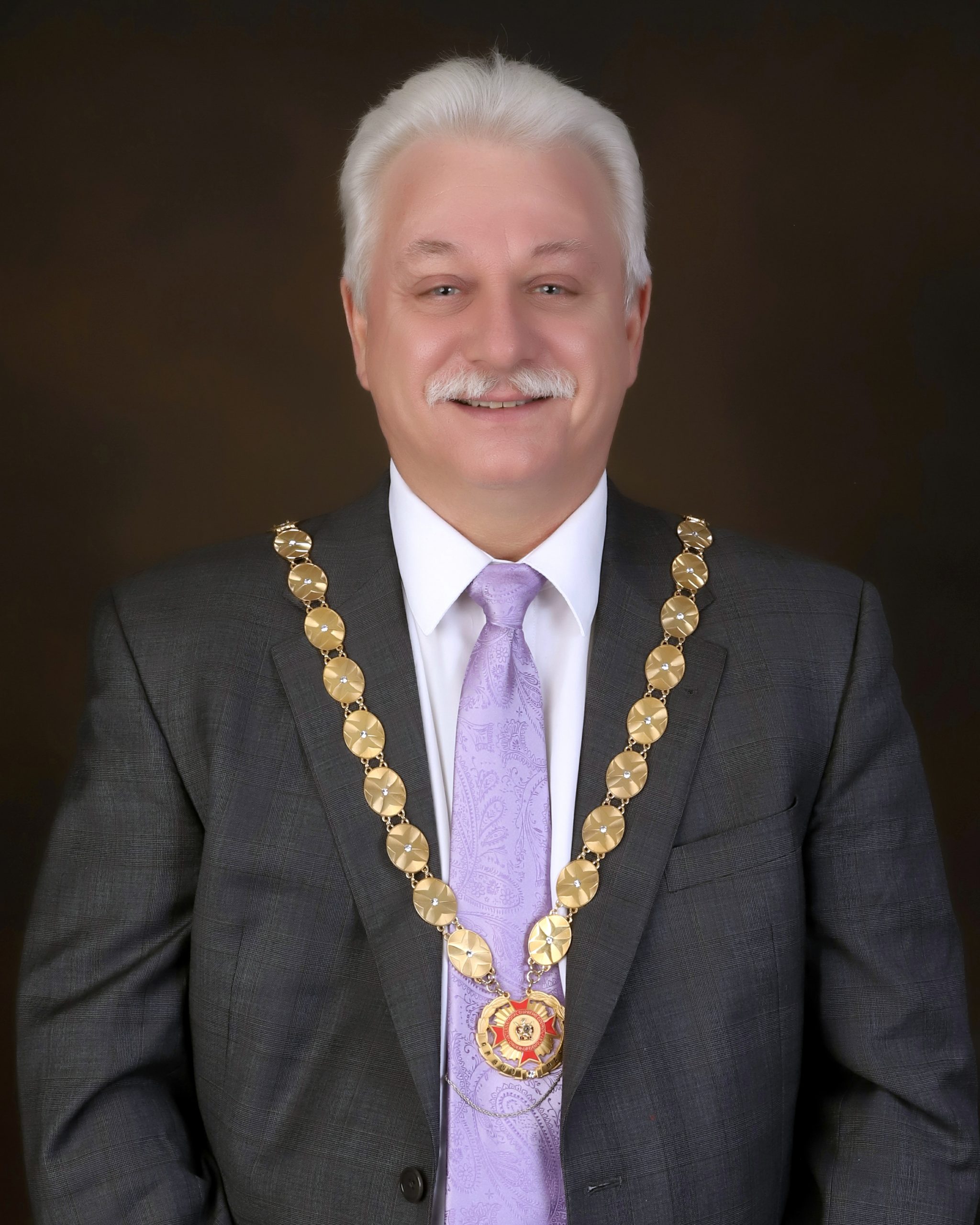 Vincent A. D'Aguanno
Grand Master
Vince D'Aguanno of Michigan was installed as the Grand Master of DeMolay International in Dallas, TX on June 19th, 2021.
Vince was initiated into Dearborn Chapter in Dearborn, Michigan in May 1973.  Vince comes from a non-masonic family and joined the Order of DeMolay at the request of a couple of friends from school.  DeMolay quickly became an important factor in his life as he served as Master Councilor of his Chapter, was a District Officer and served on the State level for several years as a Jurisdictional Officer.  He has earned his Representative DeMolay Award, two (2) Blue Honor Keys, a green Honor Key from Priory, served as Illustrious Knight Commander of Marquis de Lafayette Priory, a graduate of the Leadership Correspondence Course, he is a Chevalier, holder of the Cross of Honor and is a member of the Legion of Honor.
After reaching his majority, Vince served as a Chapter Advisor for his own Chapter and for Walt Disney Chapter.  He has been an active advisor for 40 years.  He has served Michigan DeMolay as the Director of Security for Conclave and Winterfest, Registrar, State Chapter Advisor, State Advisor for Training and Adult Recruitment, Deputy Executive Officer and is currently Executive Officer.  Vince has been both of his Chapters outstanding advisor and is a holder of the Guild of the Leather Apron.  Vince is the Past Commander of Marquis de Lafayette Court of Chevaliers, Past Dean of Metropolitan Preceptory, President of the DeMolay Foundation of Michigan, Inc., member of the Board of Directors of the Michigan Masonic Youth Foundation, member of the Michigan DeMolay Hall of Fame.  As an Active Member of the Supreme Council, Vince has served on the Jurisprudence and Legislation Committee, Honors and Awards, Youth Protection; two years as Chairman.
Vince is a member or Olive Branch Lodge #542, Monroe Chapter #1 Royal Arch, Valley of Detroit, Ancient and Accepted Scottish Rite, Northville Council R&SM, Crusader Council Allied Masonic Degrees, Detroit Commandery #1, Moslem Temple Shrine, Orient Chapter #77, Order of the Eastern Star.  Because Vince is committed to serving Masonic Youth, he serves on the Advisory Board of Northville Assembly #29, International Order of Rainbow for Girls and has been honored with the Rainbow Grand Cross of Color.
Vince is a native Michiganian, not a Michigander, he graduated from Edsel B. Ford High School in Dearborn, Michigan.  He graduated from Michigan State University with two Bachelors of Arts, one in Criminal Justice and another in Anthropology.  Vince is a graduate of Thomas M. Cooley Law School.  Professionally, Vince was an attorney for the Office of the Inspector General for the State of Michigan for the last 30 plus years.  He is currently retired.
DeMolay has been a very big part of Vince's life, he married his Chapter Sweetheart, Tammie and they just celebrated their 40 th anniversary January 3, 2021.  Tammie is a past Worthy Advisor, Mother Advisor and continues to be very active in Rainbow.  Tammie is a Social Worker and current Director of COPE.  They have two children, Amberlyn (PWA, Dearborn Assembly) and Dominic (PMC, Dearborn Chapter).  Amberlyn is a nurse, working with elderly and disabled patients.  Dominic works for the State of Michigan as a consultant for the State Opioid Response Grant, Individual Placement and Support, overseeing four pilot programs to provide employment and support services to individuals 18-25 with opioid use disorders.  Both Tammie and Vince are very proud that their children continue in fields of service to others.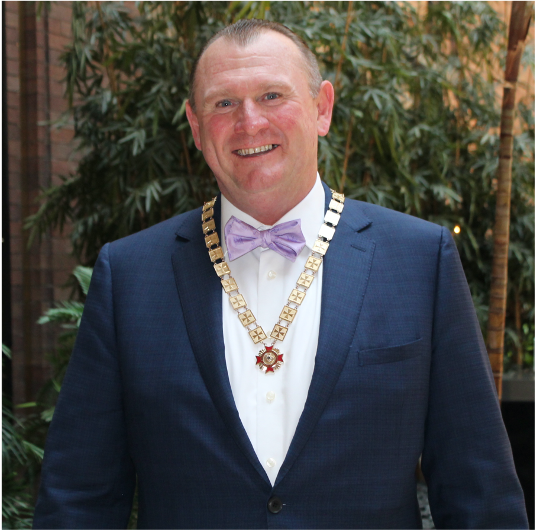 Jonathan R. Sellars
Grand Senior Councilor
Jonathan R. Sellars of Colorado was installed Grand Senior Councilor on June 19th, 2021 in Dallas, TX.
Jonathan (Jon) comes from a family with strong ties to the Masonic family. His Grandfather was a very active Mason who was study partners and attended Lodge meetings many years ago with President Harry Truman in Independence, MO.
Jon was raised as a Master Mason at his home Lodge, Collins #19 in Fort Collins, Colorado and is now also a member of Golden City Lodge #1 in Golden Colorado. He currently sits as the chairman for the Colorado Grand Lodge Youth Committee is a trustee of the Colorado DeMolay Foundation and has served as the Chairman of the Colorado Grand Lodge Markers, Memorials, and Monuments committee for over ten years. He is the recipient of several honors and awards for his work which include The Grand Master's Award of Excellence, The Grand Master's Distinguished Service Award, The Grand Lodge Meritorious Service Award, The Cryptic Masons Humanitarian Award, and he just recently received, for his distinguished service to Freemasonry, the honor of being named Companion of the Temple by the Grand Encampment of the Knights Templar, he has also earned philanthropic and service recognition in other areas of Freemasonry and within his community. Jon is a member of the Denver Consistory of the Ancient & Accepted Scottish Rite and has been elevated to the rank & decoration of Knight Commander of the Court of Honor. He is also a member of El Jebel Shrine and Mt. Zion Order of Eastern Star.
The love for DeMolay that Jon holds did not begin as a youth. Unfortunately, he was not introduced to the Order of DeMolay until having a son of his own who attended many Masonic events, had heard about the organization, and could not wait to join when he was old enough to do so. Once his son joined, Jon and his wife took a very active role at the Chapter level. He became Chapter Chairman and then Chapter Advisor, which he still says is one of his favorite jobs in DeMolay. Not too long after, he and his wife took positions on the State Staff and have remained busy throughout the state ever since. Dad Sellars is now the Executive Officer of Colorado.  Colorado has seen growth for more than ten years consecutively under Dad Sellars leadership. Prior to his appointment as Grand Junior Councilor, Dad Sellars served as a trustee and Treasurer of the DeMolay Foundation. He has worked on committees and continues to remain very active with his state staff, state officers, advisors, and members of his jurisdiction. He is a recipient of two Grand Master's Eagles, the Horizon Award, and most recently, the Executive Officer of the Year. His favorite honor, however, has been having the satisfaction of watching his son and the sons of others benefit from all that DeMolay offers.
Jon and his wife Kellie live in Castle Rock, Colorado. Their children are now adults working and living away from home. Taylor, their daughter, works for a law firm in Denver, and Mason is living in Massachusetts, working for the Grand Commander at the Scottish Rite, Northern Masonic Jurisdiction. Both thoroughly enjoy their jobs, are taking college courses, and looking forward to a bright future. Other than DeMolay, Dad Sellars enjoys travel, fishing, working outdoors, and spending time with his family.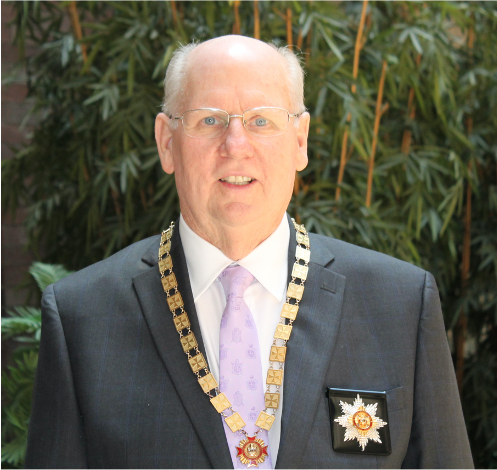 Terry L. Peters, GC
Grand Junior Councilor
Terry L. Peters of Northern California & Hawaii was installed as Grand Junior Councilor of DeMolay International in Dallas, TX on June 19th, 2021.
Terry Peters was initiated into San Jose Chapter in San Jose, California in February 1965 where he started a lifelong relationship with DeMolay.  San Jose Chapter has the distinction of being the first Chartered Chapter in California.  His family has been active in Freemasonry and the Masonic Family for several generations.  Terry's father was instrumental in encouraging Terry to join DeMolay after learning about DeMolay at one of his Masonic Lodge's stated meetings.
After Terry became a majority member of DeMolay, he became active again with DeMolay when his son was initiated into DeMolay several years later.  Terry instantly became active as the Pleasanton Chapter Advisor and soon after as the Pacific East Bay Division Advisor.  Later, Terry served the Jurisdiction in several capacities including Convention Director, Pacific Coast DeMolay Leadership Camp Advisor, Jurisdiction Advisor and the Assistant Executive Officer.  In 2017, he was appointed Executive Officer for Northern California and Hawaii. He also serves as a trustee on the DeMolay Foundation of California.   Terry has received several awards during his DeMolay journey including Cross of Honor, Chevalier, Legion of Honor, the Guild of the Leather Apron, and the Gordon McBride Membership Award.
Terry became a Member of the International Supreme Council (ISC) in 2001 and has served on several committees including Ritual, Nominations and Convention Planning.  He was appointed Chair Of Convention Planning where he served for five years until he was appointed Executive Officer in 2017.  Terry also served as a member of DeMolay International's Board of Directors as a Region VIII Representative for two consecutive terms.  He is the recipient of DeMolay International's Grand Cross.
Terry is a member and officer of Pleasanton Lodge #321, Free and Accepted Masons, where he is currently serving as the Senior Warden.  He is also a member of Aahmes Shrine in Livermore, San Francisco Scottish Rite Valley, a Past Patron, Semper Fidelis Chapter # 135, Order of Eastern Star, and an associate member of the San Francisco Chinese Acacia Club.
Terry is a graduate of San Jose State University in San Jose, CA with a degree in Business Human Resources.  He retired as an IT Senior Technical Director after 30+ years with AT&T.  He and his wife, Evonne, have two grown and married children, Andrea and Scott, and 4 Grandsons, Austin, Andrew, Mason and Colton.  Andrea is a Past Honored Queen of Job's Daughters, a majority member of Rainbow for Girls, past Chapter and Division Sweetheart, and a member of Semper Fidelis Chapter, Order of Eastern Star.  Scott is a Past Master Councilor of Pleasanton Chapter, Pacific East Bay Division, and Northern California DeMolay Jurisdiction. Terry's oldest Grandson, Austin, is a third generation DeMolay. Terry loves to travel, garden, and spend time with his family. Terry and Evonne are active members of Lynnewood United Methodist Church in Pleasanton.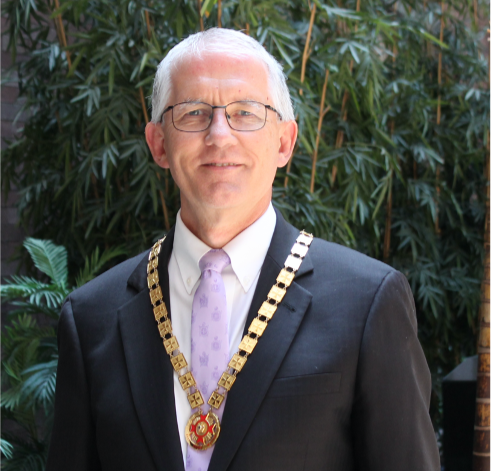 Gregory A. Chiles, PGM GC
Grand Treasurer
Gregory A. Chiles of Indiana was installed as Grand Treasurer of DeMolay International in Dallas, TX on June 19th, 2021.
Dad Chiles received the degrees of DeMolay in December 1972 in Beech Grove Chapter.  He served as Master Councilor in 1976 while a Senior at Warren Central High School.  His DeMolay Honors include Blue Honor Key, Representative DeMolay, Chevalier, Legion of Honor and Cross of Honor.  He served Indiana DeMolay as State Master Councilor in 1978-1979.  Dad Chiles was appointed as Executive Officer for Indiana in November, 2003 and was elected an Active Member of the Supreme Council at the 85th  Anniversary in 2004.  Dad Chiles retired as Executive Officer in June, 2018.   Prior to assuming the role of Executive Officer, Dad Chiles served as Conclave Director for Indiana DeMolay for 10 years.  He has served two consecutive terms on the Board of Directors of DeMolay International as the Region IV Representative and was Chairman of the Executive Officers Conference in 2009.  He was elected Grand Master on June 23, 2012.  Dad Chiles has served as Chairman of the Budget & Finance Committee since 2014.  He was elected Grand Treasurer on June 29, 2019.
Dad Chiles is a Charter Member of Frank S. Land Lodge in Indianapolis where he served as Worshipful Master in 1988 and 1998.  He is a member of the Scottish Rite Valley of Indianapolis, where he served as Most Wise Master from 2006-2008.  In August 2006 Dad Chiles received his 33rd Degree in Chicago.  He is a member of the York Rite Bodies of Noblesville and a member of the Murat Shrine Indianapolis.  He is a Past Patron of Cicero Chapter, OES.
A graduate from Butler University, Dad Chiles has a degree in Business Management and is an avid Bulldog Basketball fan.  In 1990, Dad Chiles passed his CPA exam.  He has been the Business Manager for St. Simon the Apostle Catholic Church May, 2003.
Greg and his wife Dawn live in Carmel and have one grown daughter, Allison.  When not at work or a DeMolay event, Dad Chiles enjoys jogging and officiating basketball and softball games.  A licensed Indiana High School official, Dad Chiles works school games, as well as, travel ball.
Steven E. Crane, PGM GC
Grand Secretary
Steve Crane was born in San Diego, California where his family farm in the Alpine California area. Steve Crane moved to Sandpoint, Idaho in 1981 and joined Lakeside Lodge #42. He served as Master of the Lodge in 1993, 1994, and 1995. He was appointed District Deputy in 1994 and then appointed to the progressive Grand Lodge line in 1996. He continued through Idaho's long progressive line until his employer moved him into the global headquarters in Topeka, Kansas in 2002. Steve Crane retired as the manager of competitive intelligence from Hill's Pet Nutrition, a division of Colgate Palmolive after 30 years in March of 2011.
Having received his Masters in Organizational Administrative Management from the University of Phoenix, he taught as an adjunct professor at Baker University, the oldest university in Kansas, which was established in 1858. He taught Organizational Management and International Marketing in Baker's MBA program for 8 years.
While his daughters were involved in Job's Daughters in Sandpoint, Idaho, his son clearly would not be eligible. Consequently, Steve Crane started a DeMolay Chapter in Sandpoint and served as Chapter Dad, Chapter Chairman, and finally regional Executive Officer for Idaho before being transferred to Kansas in 2002. In 2003 he was appointed Executive Officer of Kansas. While serving Kansas he attained positive growth each year.
Steve Crane served on various committees for DeMolay International, and served as President of the DeMolay Foundation until his election as Junior Grand Councilor in 2013. Steve served as WM of Topeka Lodge #17 in 2011. He is currently a member of Lakeside Lodge #42, Sandpoint Idaho, Bannack Lodge 3-7-77 in Bannack Montana, Topeka Lodge #17 Topeka Kansas. He received his honorary 33rd as a member of the Coeur D'Alene Idaho Valley of Scottish Rite, member of Arab Shrine in Topeka Kansas, Calam Shrine in Lewiston Idaho, and Ankara Grotto in Kansas City Kansas. Steve currently serves as Chairman of Foreign Relations for the Grand Lodge of Kansas. 
Steve Crane has three daughters, one son, two step daughters, 12 grand daughters and 4 grand sons who are scattered from San Diego to Quebec. He lives with his best friend and wife Dr. Marilyn Colgan in Clinton Kansas where they raise beef cattle, corn and soybeans on the family farm.
Board of Directors
The Board of Directors transacts all business of DeMolay International and is composed of 19 positions specifically defined in the By-laws. The Board of Directors shall meet during the last three months of the calendar year at a time and place selected by the Grand Master, though traditionally, the Board of Directors meets quarterly to provide executive leadership and guidance for the organization. All actions of the Board of Directors must be ratified by the International Supreme Council, the governing body of DeMolay International.
The following slate of officers and directors were unanimously elected to serve on the Board of Directors for the current term:
* Denotes non-voting members.
** Denotes non-voting employee that has a direct report to the Board of Directors
The Board of Directors consists of the following: one Class 1 member as a representative from each of the DeMolay regions; and the Grand Master, Grand Senior Councilor, Grand Junior Councilor, Grand Secretary, Grand Treasurer, a representative selected from the Executive Officers' Conference, and two Class 6 members of DeMolay International. The Chairman of the Jurisprudence and Legislation Committee, the Chairman of the Budget and Finance Committee and the General Counsel shall be members without a vote.
International Headquarters
DeMolay International – Henry E. "Hank" Stickney Service & Leadership Center
10200 NW Ambassador Drive, Kansas City, MO 64153
1-800-DEMOLAY (Toll Free) | (816) 891-8333  | Fax: (816) 891-9062
DeMolay Office Hours: Monday – Friday 8:30 AM CST to 5:00 PM CST
CHRISTIAN D. MOORE, CPRP
Executive Director
RESPONSIBILITIES
Executive Management
Staff Oversight
Public Relations
CONTACT INFO
Phone Ext: 503
Charity Lankford
Office Manager
CONTACT INFO
Phone Ext: 503
Matthew Cordoves
Membership Services Representative
Jared Replogle, GC, PICS
Membership Services Representative
JUSTIN M. LEE
Assistant Executive Director
RESPONSIBILITIES
Accounts receivable & accounts payable
Financial operations
Internal financial controls
CONTACT INFO
Phone Ext: 521
Frank Nordstrom
Director of Membership
CONTACT INFO
Phone Ext: 501
BOBI L. MADDUX
Manager of Administration
RESPONSIBILITIES
Chapter Services
Registration of New & Continuing Advisors
Registration of new Chapters/ Manors/Courts/Priories/Preceptories
CONTACT INFO
Phone Ext: 502
TJ LANGE
Director of IT & Media
RESPONSIBILITIES
Media Design and Management
Website Design and Management
IT Support
CONTACT INFO
Phone Ext: 511