New DeMolay Chapter Start-Up Guide
FOR IMMEDIATE RELEASE
KANSAS CITY, Mo. – The new DeMolay Chapter Start-Up Guide is finally here! This guide will help steer you through the steps in developing a new chapter.  All the information is presented in an easy to read format, with clickable links (when viewing the document electronically), and incorporating the newest procedures in eScribe.
Let's get some new chapters going!
Click the photo to download a .PDF of the DeMolay Chapter Start-Up Guide!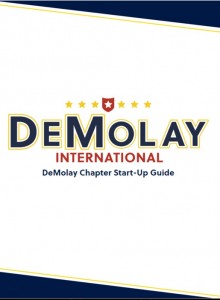 For more information, please contact:
DeMolay International
1-800-DEMOLAY (336-6529)
DeMolay@DeMolay.org
DeMolay is the premier youth leadership organization building young men of character and dedicated to making young men better people and leaders. Providing a program based on timeless principles and practical experience, DeMolay strives to not only create the extraordinary leader, but a leader of character.
This is an official publication of DeMolay, and acknowledges authority and yields allegiance to DeMolay International, of which Frank S. Land was Founder.