New EO in Michigan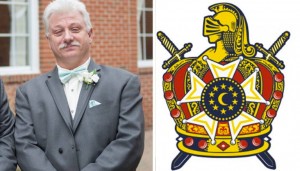 IMMEDIATE RELEASE
Kansas City, Mo – On February 23, 2017, Grand Master Bill Sardone, officially appointed "Dad" Vincent A. (Vince) D'Aguanno the Executive Officer of the Jurisdiction of Michigan.
"Dad" D'Aguanno joined Dearborn Chapter, Order of DeMolay, in Dearborn, Michigan on May 14, 1973, and held many offices including Master Councilor.  He was honored with the Degree of Chevalier in October 1980, the Legion of Honor in 1998 and the Cross of Honor in 2004.  He has been an active advisor since 1982 and has served Dearborn Chapter and Walt Disney Chapter as the Chairman and Chapter Advisor.  He currently serves as the Chairman of Walt Disney Chapter in Northville, Michigan.
Brother D'Aguanno is a past Commander of the Marquis de Lafayette Court of Chevaliers, past Dean of Metropolitan Preceptory in Detroit, Michigan, past State Chapter Advisor for Michigan DeMolay (2004-2009), has been a Deputy Executive Officer since 2009 and is an active member of DeMolay International.  Brother D'Aguanno is a member of Olive Branch Lodge #542.
Take a moment to congratulate Brother and"Dad" Vince D'Aguanno on his appointment, his contact information can be found here: DeMolay.org/Jurisdictions/Michigan
For more information, please contact:
DeMolay International
1-800-DEMOLAY (336-6529)
DeMolay@DeMolay.org
DeMolay is the premier youth leadership organization building young men of character and dedicated to making young men better people and leaders. Providing a program based on timeless principles and practical experience, DeMolay strives to not only create the extraordinary leader, but a leader of character.
This is an official publication of DeMolay, and acknowledges authority and yields allegiance to DeMolay International, of which Frank S. Land was Founder.