New EO in Pennsylvania – May 1, 2017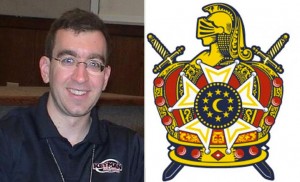 IMMEDIATE RELEASE
Kansas City, Mo – Effective May 1, 2017, Grand Master Bill Sardone is pleased to announce the transition of "Dad" Gregory M. (Greg) Schaeffer to the role of Executive Officer in Pennsylvania. "Dad" Schaeffer will succeed "Dad" Thomas R. (Tom) Labagh, who will retire as Executive Officer of Pennsylvania with more than 15 years of dedicated service in this prestigious role.
"Dad" Schaeffer joined Elizabethtown Chapter in Elizabethtown, PA on May 19, 1994, and held many offices including Master Councilor. He has been an active advisor, since his majority date of November 28, 2001, in Elizabethtown Chapter, he also serves as Chapter Chairman of Orange-Rockland Central in Walden, NY.
"Dad" Schaeffer was honored with the Degree of Chevalier in 1998 and the Legion of Honor in 2009. He received the Guild of the Leather Apron (GLA) – Advisor of the Year in 2012, his Representative DeMolay Award in 1997, and received the Distinguished Service Award (DSA) – DeMolay of the Year in 1998. "Dad" Schaeffer is a Class 1 – Active Member on the DeMolay International Supreme Council and is Chairman of the International Supreme Council Ritual & Regalia Committee.
Grand Master Sardone said, "Greg Schaefer has a long and dedicated record of service to DeMolay from the local chapter level to the international level serving as Chairman of the Ritual & Regalia Committee for DeMolay International. This is not goodbye to Dad Thomas Labagh.  "Dad "Labagh will remain active in DeMolay and all Masonic Youth as he will remain with the Pennsylvania Masonic Youth Foundation. "Dad" Labagh is a truly a fixture in DeMolay and well known for advice.  He has been around long enough to have many beards and mustaches…and now fake beards and mustaches." Grand Master Sardone went on to state, "No it's not May 1, 2017, yet, but timely transitions are key to success and we are looking forward to "Dad" Schaefer's leadership."
Brother Schaeffer is a member of Wallkill Lodge #627, NY lodge in Walden, NY and Abraham C. Treichler #682 in Elizabethtown, PA. Right Worshipful Grand Master, Brother Raymond T. Dietz, gave his full support for Brother and "Dad" Schaeffer in his role as Executive Officer of DeMolay in Pennsylvania.
For more information, please contact:
DeMolay International
1-800-DEMOLAY (336-6529)
DeMolay@DeMolay.org
DeMolay is the premier youth leadership organization building young men of character and dedicated to making young men better people and leaders. Providing a program based on timeless principles and practical experience, DeMolay strives to not only create the extraordinary leader, but a leader of character.
This is an official publication of DeMolay, and acknowledges authority and yields allegiance to DeMolay International, of which Frank S. Land was Founder.