New Executive Officer in Maryland
Grand Master Ronald J. Minshall has appointed Dad Carl Michel as Executive Officer in Maryland effective October 8, 2017.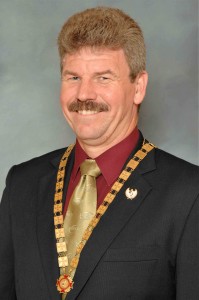 Dad Michel began his DeMolay career in Overlea Chapter in Maryland, where he is a Past Master Councilor. He also served as State Master Councilor of Maryland DeMolay.
A Chevalier, Dad Michel has also served as Grand Commander of the Maryland Court of Chevaliers. He is also an Active Member of the Legion of Honor and has received the Guild of the Leather Apron and the Cross of Honor.
Dad Michel was elected a Deputy Member of the International Supreme Council in 2015.
An active Mason, Dad Michel is Chairman of the Grand Lodge Youth Committee and the Executive Assistant to the Grand Secretary of Maryland.
Dad Michel is married to his lady, Connie, and has three daughters, Kiersten, Lauren and Tiffany, who were all Job's Daughters and are now in college.
Dad Michel succeeds Dad William "Bill" Eppig, who served as Executive Officer for 10 years. Grand Master Minshall thanks Dad Eppig for his service to DeMolay, and congratulates Dad Michel on his appointment.
Please take a moment to welcome Dad Michel by contacting him at https://demolay.org/jurisdictions/maryland/
DeMolay is the premier youth leadership organization building young men of character and dedicated to making young men better people and leaders. Providing a program based on timeless principles and practical experience, DeMolay strives to not only create the extraordinary leader, but a leader of character.
This is an official publication of DeMolay, and acknowledges authority and yields allegiance to DeMolay International, of which Frank S. Land was Founder.