New PR in Maine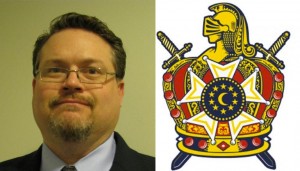 IMMEDIATE RELEASE
Kansas City, Mo – On January 19, 2017, Grand Master Bill Sardone, officially appointed "Dad" Anthony (Tony) J. Bessey his personal representative in the Jurisdiction of Maine.
"Dad" Bessey joined Frank S. Land Chapter, November 15, 1986, in South Portland, ME at age 14. He also served as State Senior Councilor in Maine from 1991-1992 and was honored with the Degree of Chevalier in 1992. Brother Bessey joined Corner Stone Lodge #216 in Portland, Maine, he currently serves as Secretary. 
Grand Master Sardone wanted to extend a heartfelt thank you to "Dad" Gordon L. Kimball, Jr., "Dad" Kimball was one of DeMolay's longest tenured Executive Officers, serving DeMolay in the Jurisdiction of Maine for nearly 13 years. "Brother Gordon brought many successes to DeMolay in Maine. His work in the jurisdiction and for DeMolay International was incredible. We should all be thankful for his incredible support of the young men of DeMolay."
Grand Master Sardone, "Dad" Bessey, and the Jurisdiction of Maine are grateful that "Dad" Kimball will continue to aid in the development of youth as a DeMolay Advisor in the jurisdiction of Maine. 
Upon completion of DeMolay Jurisdiction Management Training and submitting his Jurisdiction Management plan to Grand Master Sardone "Dad" Tony will be eligible to be appointed Executive Officer.
Take a moment to congratulate Brother and "Dad" Tony Bessey on his appointment, his contact information can be found here: DeMolay.org/Jurisdictions/Maine
For more information, please contact:
DeMolay International
1-800-DEMOLAY (336-6529)
DeMolay@DeMolay.org
DeMolay is the premier youth leadership organization building young men of character and dedicated to making young men better people and leaders. Providing a program based on timeless principles and practical experience, DeMolay strives to not only create the extraordinary leader, but a leader of character.
This is an official publication of DeMolay, and acknowledges authority and yields allegiance to DeMolay International, of which Frank S. Land was Founder.