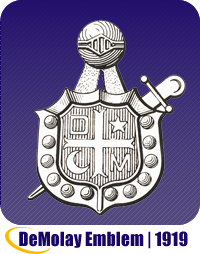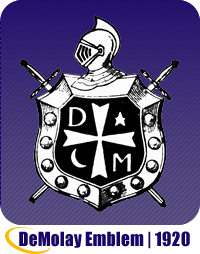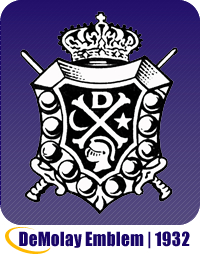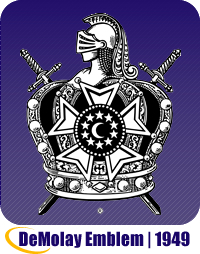 The four DeMolay Emblems shown in the artwork each have a date below them. These dates show when the emblems were first created and when they were used by DeMolay International as the official emblem.
While the emblems have changed over the years, one thing has remained the same over the years. On each emblem after the original in 1919, there are 10 jewels that adorn the side. What many may not know is that the jewels hold a special significance, as DeMolay's Founder Frank S. Land explains below.
"Look at it! There are even ten jewels surrounding the shield.' He thought for a while. 'It seems to me that the jewels should personify something and have greater meaning than just serving as ornaments."
"What do you suggest" his wife Nell said?
Land seemed lost in his world of dream and finally answered, "I believe they should signify the first of our boys, Louie Lower and the other eight who came with him on that first night that now seems so long ago."
"But that is only nine," questioned Nell. 'How about the tenth jewel?'
Slowly Frank turned to her, took her hand in his, and with deep emotion replied, "The tenth jewel will stand for me as the Founder of the group. I will always be proud of becoming in this way a part of the symbolic organization of DeMolay." Slowly he continued, "In the years to come, each of us will enter into the adventure beyond this life. Then the color of each jewel, in turn, can change from white to red. Years from now, there will be ten rubies to give testimonial that in the beginning there were ten who shared a dream together."
Today, there are no remaining pearls. All ten pearls have now changed to rubies at the request and wishes of Frank S. Land.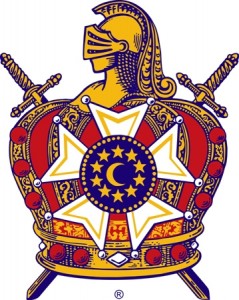 The CROWN is symbolic of the high morals that we stand for that constantly reminds a DeMolay of his pledges and the seven core values of his organization.
The TEN RED RUBIES honor the Founder and the nine young men whose ties of friendship drew them together in the formation of the organization.
The HELMET is emblematic of chivalry, without which there can be no fineness of character.
The CRESCENT is a Symbol of our heritage and constantly reminds DeMolays of their obligation to remain faithful to their pledges and fellow brothers.
The five-armed WHITE CROSS symbolizes the purity of our intentions to always remember the motto of the organization, "No DeMolay shall fail as a citizen, as a leader and as a man."
The CROSSED SWORDS denote justice, fortitude, and mercy. They symbolize the unceasing battle of DeMolay against arrogance, despotism, and ignorance.
The STARS surrounding the crescent are symbolic of hope, and should always remind us of those obligations and duties which one member of the organization owes to another.