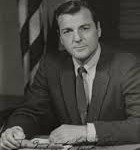 Bob Mathias
Gold Medal Olympian, Politician
"My experiences in DeMolay most certainly were greatly beneficial in my career in sports, politics, and now, in the business world. I am grateful that DeMolay helped me learn many important values that have always remained with me. "
Honors:
Gold Medal Olympian
United States Congressman
Director of the U.S. Olympic Training Center, Colorado Springs, CO.
President and Chairman of the Board of the American Kids Sports Network.
The only active DeMolay to ever win an Olympic gold medal.
The first person in history to win two gold medals in the Olympic Decathlon.
First, at the London games in 1948. Then at the Helsinki games in 1952.
Four term United States Congressman from California.
Respected Businessman and community leader.
Chevalier
Legion of Honor
Tulare Chapter, Tulare, California. Initiated 1945.