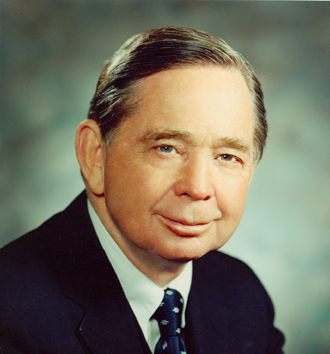 Carl B. Albert
Former Speaker of the U.S. House of Representatives
"In reflecting on my forty-nine years of public service, I find that the precepts of the Order of DeMolay have been invaluable to me. This was particularly true the two times I was just a heartbeat away from the presidency of the United States and faced very difficult decisions. My public life, as well as my private life, has been guided by the DeMolay vow - to love and serve God, my country, and my fellow man."
Senior DeMolay Carl Albert rose through the political world to become the 46th Speaker of the United States House of Representatives.
Carl Albert was born on May 10, 1908, in Oklahoma. He studied at McAlester High School. During high school, he polished his speaking skills and won a regional oratorical contest in 1927, and a national competition in 1928. After graduation from the University of Oklahoma in 1931, he won a Rhodes Scholarship. He spent the next three years in England, studying at Oxford University. He served in the United States Army from 1941-1946. What followed was a distinguished political career. Albert served the United States House of Representatives from 1947-1977; at the time of his retirement, he was the longest-serving representative in Oklahoma history.
From 1955-1961, Albert served as House Majority Whip; from 1962-1971, he served as House Majority Leader; in 1964, Albert served as Chairman of the Platform Committee; in 1968, he served as Chairman of the National Democratic Convention. In 1971, Albert was elected Speaker of the House of Representatives, an office he held for six years.
Albert's time as Speaker of the House of Representatives was a difficult time in history. The Vietnam War divided the nation, and the Watergate affair threatened constitutional order. During the crises, Albert conducted business with dignity and integrity. Twice, he was second in the line of succession to the presidency. Albert left the speakership a far more powerful office than it had been when his speakership began.
After retirement, he returned to his hometown in Oklahoma. He received many awards and honors, which included the Oklahoma Will Rogers Award, 1979; the University of Oklahoma's Distinguished Alumnus Award, 1990; an honorary doctorate from the University of Oklahoma, 1991; the League of Women Voters Oklahoma Statesman of the Year, 1993; the Oklahoma Broadcasters Association Oklahoman of the Year; the Reserve Officer Association Minute Man Award; and the University of Oklahoma Distinguished Service Award.
Albert was initiated into Daniel M. Hailey Chapter DeMolay in McAlester, Oklahoma, in 1926. Albert was a member of South McAlester Lodge #46, a Scottish Rite 33rd Degree Mason, and a DeMolay Legion of Honor recipient. Albert was inducted into the DeMolay Hall of Fame on June 21, 1996.
Honors:
Former Speaker of the U.S. House of Representatives
U.S. Army (1941-1946)
Elected to Congress in 1946
House Majority Whip (1955-1961)
House Majority Leader (1962-1971)
Chairman of the Platform Committee (1964)
Chairman of National Democratic Convention (1968)
Speaker of the House (1971-1977)Oklahoma Will Rogers Award (1979)
Distinguished Alumnus Award (College of Arts & Science at University of Oklahoma) (1990)
Honorary Degree from University of Oklahoma (1991)
Oklahoma Statesman of the Year (League of Women Voters) (1993)
Oklahoman of the Year (Oklahoma Broadcasters Association)
Minute Man Award (Reserve Officer Association)
Distinguished Service Award (University of Oklahoma)
Member of Oklahoma Hall of Fame
Member South McAlester Lodge #46
Scottish Rite, 33rd Degree
Legion of Honor
Initiated: Daniel M. Hailey Chapter (1926)McAlester, Oklahoma