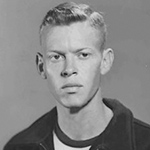 Dr. Robert Lee Beck
Dentist, Physician, U.S. Olympic Athlete
"The Order of DeMolay instilled in me a feeling of worthiness, dedication, and loyalty, and an unshaken belief in a God whose hand is always there when you reach for it. Early in my life, DeMolay precepts laid the foundation for me to set realistic goals and enabled me to win when I needed to win. These same precepts have given me the inner strength to face adversity and tragedy, and to overcome seemingly insurmountable odds. I will be eternally grateful to the Order of DeMolay for having invited me into its fellowship and for having given me the spiritual direction and counsel that are so vital in forming the cornerstones of character."
Honors:
Dentist, Physician, U.S. Olympic Athlete
University of Virginia, BA '58
United States Navy (1958-61) Lt., U.S.N.
USS Wisconsin (BB64); USS Beatty (DD756)
US Navel Academy, US Embassy, Moscow
Harvard University, DMD '65; Duke University, MD '67
Represented the United States internationally on thirteen different Olympic,
Pan American and World Championship teams in the
sports of Modern Pentathlon, Fencing and Riding.
Won three Gold and three Bronze Olympic, Pan American and
World Championship medals. World Champion Shooting (1969),
Fencing (1970), Riding (1969)
The only double medal winner for the United States in the
Olympic discipline of Modern Pentathlon.