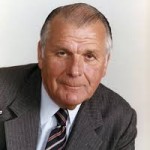 Elmer Lower
Broadcast Journalist
"The DeMolay movement was important to me from the date it was founded. It made a strong contribution to my character at a very formative period of my life. It showed me that I could set and achieve a high standard of ethics and morals, although at the time I doubt that I ever used those words."
Honors:
LIFE MAGAZINE: 1944-1951.
Los Angeles Bureau Chief
Paris Bureau Chief
COLUMBIA BROADCASTING SYSTEM: 1953-1959.
Washington Bureau Chief
Director of Special Projects and Operations
NATIONAL BROADCASTING COMPANY: 1959-1963.
Washington Bureau Chief
Executive Producer
Vice President and General Manager
AMERICAN BROADCASTING COMPANY: 1963-1978.
President of ABC News
Corporate Vice President and Company Officer
Winner of two Emmy Awards 1970 and 1975.
Inducted into the Journalism Hall of Fame 1981.
Leader in Broadcast Journalism Education
Legion of Honor
Mother Chapter, Kansas City, Missouri. Initiated 1929.