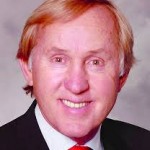 Fran Tarkenton
Professional Football Player
"It is a great honor to be inducted into the DeMolay Hall of Fame. In today's society where there is so much violence and heartache, it's a gratifying feeling to know there is such a fine organization as DeMolay to look up to and lean on for guidance and support. I am proud to be a member!"
Honors:
All American quarterback - University of Georgia.
National Football League Most Valuable Player 1975
Led the Minnesota Vikings to Three Super Bowls 1973, 1975, and 1976.
Member of the Pro Football Hall of Fame.
Set National Football League record for most touchdown passes,
most completions and most yards gained passing.
Legion of Honor 1973.
Frank Hardeman Chapter, Athens, Georgia. Initiated 1954.