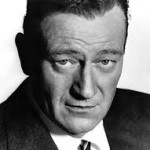 John Wayne
Actor
"I was overwhelmed by the feeling of friendship, comradeship, and brotherhood DeMolay will always hold a deep spot in my heart."
Honors:
The biggest box office attraction in Hollywood history.
Starred in over 200 films.
"Stagecoach" 1939
"How the West Was Won" 1962
"The Flying Tigers" 1942
"The Green Berets" 1968
"Fort Apache" 1948
"True Grit" 1969
"The Sands of Iwo Jima" 1949
"The Shootist" 1976
"Flying Leathernecks" 1951
"The Alamo" 1960
Awarded Best Actor Oscar, "True Grit" 1969.
Legion of Honor 1970
Glendale Chapter, Glendale, California. Initiated 1924.