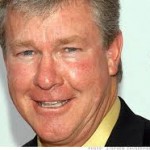 Larry D. Wilcox
Actor
"I have learned a great deal in my life, and DeMolay helped me to learn that character and integrity should be cornerstones in your life. As a Senior DeMolay, as a father, the best advice I could ever give would be to take the high road in life, and you will be able to build trusting relationships."
Honors:
Rawlins Chapter  - Rawlins, WY
Wilcox was initiated into Rawlings Chapter DeMolay in Rawlings, Wyoming, in 1963, where he served as a Master Councilor. Wilcox was inducted into the DeMolay Hall of Fame on June 16, 2001.