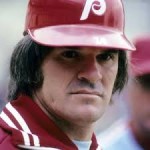 Pete Rose
Baseball Player
"As a kid growing up, DeMolay was one of the few organizations of which I was a part that helped me think about responsibility outside of sports. That is something that has been a part of me over the years and I can thank DeMolay for making it part of my life."
Honors:
National League Rookie of The Year 1963.
National League's Most Valuable Player 1973
Led Cincinnati Reds to World Series Championships in 1975 and 1976.
Most Valuable Player 1975 World Series.
Led Philadelphia Phillies to World Series Championship in 1980.
Established Major League Record by having ten 200 hit seasons.
Baseball's All Time Career Hit Leader.
Initiated into DeMolay in Cincinnati, Ohio.