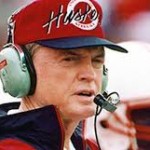 Tom Osborne
University of Nebraska Football Coach
"I enjoyed my association with DeMolay in my youth and believe that DeMolay has served the young people of the United States well over a long period of time."
Honors:
University of Nebraska football Coach
Coached Nebraska to six Big Eight conference Titles
1975, 1978, 1981, 1982, 1983 and 1984.
Big Eight Conference Coach of the Year
1975, 1978 and 1980.
District VI Coach of the Year 1978, 1979, 1980 and 1983.
National Coach of the Year 1978 and 1983.
Legion of Honor 1984.
Hastings Chapter, Hastings, Nebraska. Initiated in 1953.