Ronald Webb, Military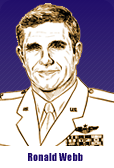 Born: July 21, 1937
Ronald Webb was born in Trenton, New Jersey. As a youngster he traveled all over the United States with his family. It was while he was living in Gary, Indiana that he joined the Steel City Chapter and served as Master Councilor and also was a State Officer.
After graduating High School, Ron went on to college and earned a B.S. in Education from Indiana University. After college, Brother Webb entered the United States Air Force. While serving in the Air Force, Ron was deployed to Vietnam. During his tour of duty in Vietnam, Ron was captured by the Viet Cong and was held captive for 6 years.
Upon retiring from the United States Air Force with the rank of Colonel, Ron has worked within the Federal government, served as Executive Director of Kappa Sigma Fraternity – International Memorial Headquarters, and continues to assist in his community as a volunteer.
Today, Brother Webb resides with his wife Margie in Florida. They have one daughter, Stephanie.