Did you know that DeMolay does more for its members than just providing monetary scholarships? DeMolay provides opportunities to its members that truly prepare each and every member for the business world we live in today. The opportunities below are just a few of the greatest opportunities that DeMolay provides.
Internships: DeMolay is proud to hold its headquarters in Kansas City, Missouri, the state of our founding. In order to provide the business experience necessary in the world today, DeMolay International offers a "Summer Assistant Program" where two DeMolay members are selected to work at the International Headquarters for two months in the summer. During their time in the program, the two members will learn what it takes to run DeMolay Internationally, and how a DeMolay member can truly make a difference.
Qualifications: The qualifications will be released online soon, so keep a look out to apply for this year's internships!
Travel: DeMolay members have untold possibilities for travel. DeMolay has a presence in every state in the United States, as well as over 15 countries. Wherever you go, DeMolay isn't too far away! We encourage every DeMolay member to get out into his community to meet fellow members, especially through Leadership Training Conferences, which provide members opportunities to meet members from around the world while working on their leadership skills. Additionally, DeMolay members can run for positions of leadership that allow them to travel as a delegate to the DeMolay Congress and to other states to represent their entire state!
The picture below is just one example of a Leadership Training Conference (LTC), where members from the states of Oregon, Arizona, Texas, Nebraska, Wisconsin, Colorado, Illinois, Georgia, Tennessee, Virginia, and Connecticut all met to discuss DeMolay and work on their leadership!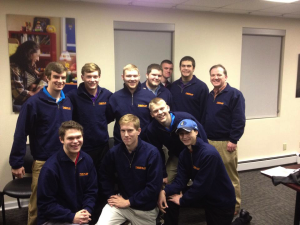 Philanthropy: A DeMolay member makes it his job to serve his community, and we do this by partnering with a few charitable organizations. Often times DeMolay participate in activates with Relay for Life and with the Shriners Hospitals for Children, to help raise both money and awareness for great causes. Additionally, many of our members need community service hours for clubs, college applications, and resumes. DeMolay provides these hours and events constantly, making accomplishing these hours a breeze for our members.
Below: Members in Colorado pack school supplies for the needy!

Below: DeMolay members hold a small Relay For Life gathering to bring awareness to Cancer!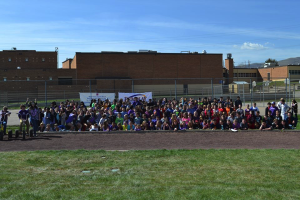 Test Prep: It is no secret that the SAT and the ACT weigh a lot on the minds of teenagers today, and DeMolay is proud of its partnership with the United States Army and its program "March2Success." Through this program, DeMolay members gain access to the  test preparation courses absolutely free, providing every member with an opportunity to get more opportunities to further their education. No information from this program is shared with DeMolay or the US Army.  Need more information about this program, click HERE.