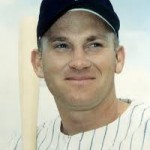 Harmon C. Killebrew
Baseball Player
"I believe the principles taught by DeMolay are invaluable to young people and are something that can be carried out and used throughout a person's entire life. DeMolay can help mold a person's character and leadership skills through their activities."
Honors:
Washington Senators 1954 - 1960.
Minnesota Twins 1961 - 1974.
Kansas City Royals 1975.
Selected 13 times to American League All Star Teams.
American League Home Run Champion six years.
Most Valuable Player American League 1969.
Inducted into Baseball Hall of Fame 1984.
Captain American League All Star Team 1985.
Legion of Honor 1985.
Templar Chapter, Payette, Idaho. Initiated 1954.