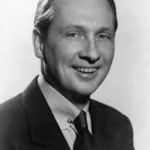 John Cameron Swayze
Television's First "Big" Newscaster
"Born in the heart of America, DeMolay now spans the world, opening the door for aspiring youth about to seek success in a tough world. It is a key to the kind of future we all desire."
Honors:
Television's first "Big" Newscaster.
The "Camel News Caravan" - NBC 1948 - 1956.
ABC News Anchor 1957.
Host of "Who Said That?" 1948.
"Watch The World" 1950.
"Guess What Happened" 1952.
"VacationLand America; Sightseeing With the Swayzes" 1953.
"Chance for Romance" 1958.
"It's A Wonderful World" 1963.
Long Time Commercial spokesman for Timex Watches.
Legion of Honor 1938.
Washington Chapter, Atchison, Kansas. Initiated 1922.