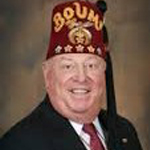 Raoul Frevel
Businessman, Civic and Masonic Leader
"Toss a pebble in a pond. The waves may spread far beyond what you expect. The life of a DeMolay may be like that pebble. I learned that taking a stand for what is honorable can make a difference and spread out to influence the lives of many. In this way, DeMolay builds better citizens and better lives. "
Honors:
Initiated: Tuscan Chapter, 1965 Baltimore, Maryland
"Any success I have been able to achieve in my life - from building my business to my Masonic and Shrine activities, I owe to DeMolay."
Inducted June 19, 2004
Member of Oklahoma Hall of Fame Initiated: Moore Chapter (1963) Moore, Oklahoma