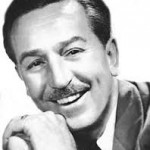 Walt Disney
Cartoonist Extraordinaire
"I feel a great sense of obligation and gratitude toward the Order of DeMolay for the important part it played in my life. Its precepts have been invaluable in making decisions, facing dilemmas and crises. DeMolay stands for all that is good for the family and for our country. I feel privileged to have enjoyed membership in DeMolay."
Honors:
Cartoonist Extraordinaire.
The creator of Mickey Mouse and founder of Disneyland and Walt Disney World.
Produced full-length animated classics such as "Snow White and the Seven
Dwarfs", "Pinocchio", "Fantasia", "Dumbo" and "Bambi".
Created and produced the "Wonderful World of Color" and the
"Mickey Mouse Club" television shows.
Walt Disney, along with his staff, received 48 Academy Awards and 7 Emmys.
Awarded Presidential Medal of Freedom.
Legion of Honor 1931.
Mother Chapter, Kansas City, Missouri. Initiated 1920.